Ball Valves For Vacuum Applications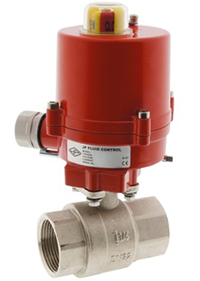 Figure 1: A 2-way brass electric ball valve suitable for vacuum applications
Vacuum conditions are used in industrial applications for pick and place systems, and research laboratories. In these processes, vacuum ball valves are often used to keep the "negative" vacuum pressure in the chamber or pipe and as a channel for the vacuum generators or pumps. A suitable vacuum ball valve should possess several characteristics for operation in a vacuum environment. The most important characteristics are the ability to have very good sealing properties in the shut-off position, quick response time, and the ability to operate at pressure differences between the sides of the valve. In some vacuum applications, the valve should operate at sub-zero conditions.
Ball valve characteristics for vacuum applications
Ball valves are quarter-turn valves and rotate 90° from open to closed positions. Therefore, ball valves can be fast-acting. When connected to a pneumatic actuator, a ball valve can rotate the maximum 90° in less than a second.
The hollow ball of a ball valve is held in place by a seat, typically made of Teflon. When there is a pressure difference between the sides of the valve, the ball presses on the Teflon seat creating a positive shut-off sealing. Ball valves can be opened at high-pressure differences between the valve sides as they do not require a pressure balancing mechanism.
They can operate at sub-zero temperatures. They are available in compact sizes as vacuum applications typically require smaller valves. The hollow and straight-through design of ball valves allows no flow resistance. Vacuum ball valves can be manually, electrically, or pneumatically actuated. The valves can be made of brass, stainless steel or PVC. They can have a 2-way or 3-way port.
Ball valves are also very durable and reliable after thousands of operational cycles. They require little to no maintenance and are very straightforward to install, replace and operate.
Application of vacuum ball valves
Vacuum ball valves are used in a wide range of applications. Some of these applications are:
Plastic molding process, vacuum tubes.
In the bake-out process. The artificial acceleration of the process of outgassing.
In robotics. A vacuum ball valve with pneumatics actuators is used to pick and drop objects.
Semiconductor processing, vacuum engineering, freeze-drying and fusion research.
Medical applications like radiotherapy, radiosurgery, and radiopharmacy and other medical processes requiring suction.
They are used to control gas flow into a chamber, leak testing, vent gases, etc.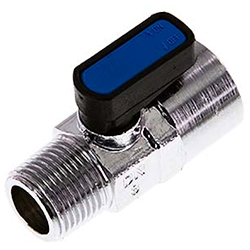 Figure 2: A ¼ inch vented mini brass ball valve suitable for vacuum applications.
Selection criteria
To select the right vacuum ball valve for your application, the following should be considered:
Vacuum level: This is an indication of how much "negative" pressure can be achieved with the ball valve. Vacuum ball valves have different vacuum levels to fit your applications.
Operating temperature: Quite often, vacuum applications operate at sub-zero conditions. It is important to check the operating temperature range of the vacuum ball valve.
Actuation speed: Choose a pneumatically actuated vacuum ball valve if the speed of actuation is critical to the operation of the vacuum system. Electrical actuators are good for slightly slower requirements and manual ball valves for simple vacuum applications.
Valve material: The gas in the vacuum environment should be unaggressive to the valve material. Vacuum ball valve material choices are often brass, stainless steel and plastic.
Connection end: The connection end type may be critical to ensuring a good seal. Use threaded connections when the vacuum pressure level is a medium, flanged connection when the pressure is low, but welded end connections when very high vacuum pressure with zero tolerance for leakages. Learn more in our article about ball valve connection types.
2-way or 3-way port: Consider the flow configuration of the system. If more than one chamber is to be vacuumed at a time, the 3-way ball valve may be more efficient.
Valve size: The time desired to achieve a vacuum determines the size of the vacuum ball valve bore.
For more information on how to select the right ball valve for your system, read our ball valve selection technical article.
View our online selection of ball valves!