Materials
The choice of material for the valve body and the seals  (diaphragm, O-rings) is determined by the type of liquid or gas, the concentration, the pressure and temperature. Go directly to:
View our online selection of valves!
Valve body materials
The most common body materials for the valve body are brass, stainless steel and nylon. Brass is the most popular material for solenoid valves. It is very robust and resistant to many chemicals, but for example less suitable for sea water or distilled water. Stainless steel is recommended for corrosive media, such as seawater. Moreover, it is wear-resistant, which makes it very suitable for intensive use. Nylon is the cheapest variant, has good mechanical properties and is suitable for many media.
| | |
| --- | --- |
| Body | Description |
| Brass | Robust and most used for solenoid valves. Suitable for neutral and non-corrosive media. |
| Stainless Steel | Very durable which makes it suitable for intensive use. Suitable for aggressive media and corrosive media like seawater. |
| Nylon | Inexpensive and reasonable mechanical and chemical properties. Commonly used for irrigation and small household appliances. |
Seal materials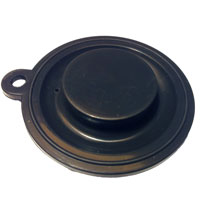 EPDM (Ethylene - Propylene - Diene Monomer), FKM (Fluorine Rubber, Viton), PTFE (Teflon) and NBR (Nitrile butadiene rubber or nitrile rubber) are the most commonly used seal materials . EPDM is recommended for (hot) water, FKM is usually recommended for (compressed) air, oils and fuels. NBR is a synthetic polymer and suitable for neutral liquids such as water or hydraulic oil at temperatures up to 75°C. In general, EPDM and FKM have better properties and it is in most cases recommended to choose one of these polymers instead of NBR. Moreover, the price of NBR, EPDM and FKM is almost equal nowadays. PTFE (Teflon) is the most inert material of the four seal materials. It is resistant to almost all chemicals. Its relatively hard, which makes it suitable for higher operating pressures and temperatures. Please note that several factors may affect the performance, such as the ambient temperature, the concentration and the operating pressure.
| | | |
| --- | --- | --- |
| Seal material | Advantages | Disadvantages |
| NBR (Nitrile rubber) | Good resistance to compression, tearing and wear. Compatible with oil products, solvents and alcohol. | Sensitive for weather influences, moderate temperature resistance, unsuitable for brake fluid and polar solvents. |
| EPDM | EPDM is very suitable for water, steam, ketones, alcohols, brake fluids, acids/alkalis in low concentrations. Very good resistance to weather influences. | Poor resistance to oil, grease and solvents. Unsuitable for aromatic hydrocarbons. |
| FKM (viton) | Very good overall chemical resistance. The temperature range is between -10°C and 130°C. Good mechanical properties, resistance to compression set, sutaible for high temperatures (not for hot water/steam). Good resistance to oils and solvents such as aliphatic, aromatic and halocarbons, acids, animal and vegetable oils. Not resistant to methanol. | Poor resistance to hot water and steam. At higher temperatures FKM swells. Unsuitable for polar solvents, certain esters and ethers, glycol based brake fluid. |
| PTFE (teflon) | PTFE is resistant to almost all fluids. The temperature range is between -20°C and 180°C. | The material is not flexible. |
Chemical resistance chart for liquids and gases
The table below shows the most commonly used media and their compatibility with the valve materials. Please note that the compatibility can be affected by temperature and concentration of the medium. The chart is developed with great care, but Tameson is not responsible for any mistakes in the table. No rights can be derived to this table. Check always carefully if the materials of the valve are compatible with the used medium.
Search for a liquid or gas:
+ = suitable (little or no effects)
0 = limited suitability (depending on conditions, such as concentration or temperature)
- = Unsuitable
BP = boiling point
Some media are given at certain concentrations, temperatures or other conditions.
| Media | PTFE (Teflon) | NBR | FKM (Viton) | EPDM | SS 316 | SS 304 | Brass | PUR | PP | PA | PE | PVC | PEEK | PVDF | POM |
| --- | --- | --- | --- | --- | --- | --- | --- | --- | --- | --- | --- | --- | --- | --- | --- |
| Acetaldehyde | CH3CHO | pure |   | - | - | + | + | + | + |   | 0 | 0 |   | - | + |   |   |
| Acetaldehyde | CH3CHO | aqueous |   | - | 0 | + | + | + | + |   | + | 0 |   | 0 | + |   |   |
| Acetic acid | CH3COOH | 10% | 20°C | + | - | - | + | + | + |   |   |   |   |   |   |   | + |   |
| Acetic acid | CH3COOH | 10% | BP | + | - | - | - | + | + |   |   |   |   |   |   |   | + | + |
| Acetic acid | CH3COOH | 50% | 20°C | + | - | - | + | + | + |   |   |   |   |   |   |   | + |   |
| Acetic acid | CH3COOH | 50% | BP | + | - | - | - | + | 0 |   |   |   |   |   |   |   | + |   |
| Acetic acid | CH3COOH | 80% | 20°C | + | - | - | - | + | + |   |   |   |   |   |   |   | + |   |
| Acetic acid | CH3COOH | 80% | BP | + | - | - | - | 0 | - |   |   |   |   |   |   |   | + | - |
| Acetic acid | CH3COOH | aqueous |   | - | - | 0 | 0 | 0 | - |   | 0 | 0 |   | 0 | + |   |   |
| Acetic acid ethyl ester | ethyl acetate |   | - | - | 0 | + | + | 0 |   | 0 | 0 |   | - | + |   |   |
| Acetic anhydride | CH3COOCOCH3 | pure |   | - | - | 0 | 0 | 0 | - |   | - | - |   | - |   |   |   |
| Acetoacetic ester | CH3COCH2COOC2H5 | acid free |   | - | - | - | + | + | 0 |   | - | + |   | - |   |   |   |
| Acetone | CH3COCH3 | 20°C | + | - | - | + | + | + | + | - | 0 | + | + | - | + | - | + |
| Acetophenone | C6H5COCH3 |   | - | - |   | + | + | + |   |   | + |   | - |   |   |   |
| Acetyl chloride |   | - | - | - | 0 | 0 | 0 |   |   | - |   |   |   |   |   |
| Acetylacetone | CH3COCH2COCH3 |   | - | - | - | + | + | - |   | - | + |   | - |   |   |   |
| Acetylene | C2H2 | + | + | + | + | + | + | + |   | 0 | + | + | 0 | + |   |   |
| Acronal dispersions | polyacrylic acid esters for adhesives |   | - | + | + | + | + | 0 |   | + | 0 |   | - |   |   |   |
| Acronal solutions |   | - | - | 0 | + | + | 0 |   | 0 | 0 |   | - |   |   |   |
| Acrylic acid ethyl ester | pure |   | - | - | 0 | + | + |   |   |   |   |   | - |   |   |   |
| Acrylonitrile | CH2CHCN | pure |   | - | - | - | + | + | + |   | + | 0 |   | - | + |   |   |
| Activin | aqueous | chloramine |   | - | - | 0 | + | + |   |   |   | - |   | - |   |   |   |
| Adipic acid | HOOC(CH2)4COOH | aqueous |   | + | + | + | + | + |   |   | + | + |   | + |   |   |   |
| Air | dry | + | + | + | + | + | + |   | + |   | + | + | + |   | + |   |
| Albumin solutions |   | + | + | + | + | + | 0 |   | + | + |   | + |   |   | + |
| Allyl alcohol | CH2CHCH2OH | aqueous |   | + | 0 | 0 | + | + | + |   | + | + |   | - |   |   |   |
| Alum | KAl(SO4)2 | 10% | 20°C | + | - | + | + | + | + |   | + |   | + | + | + |   |   |   |
| Alum | KAl(SO4)2 | 10% | 100°C | + | + | + | + | + | 0 |   |   |   |   |   |   |   |   |   |
| Alum | KAl(SO4)2 x 12 H2O | aqueous | potassium aluminium sulfate |   | + | + | + | + | 0 | - |   | + | + |   | + | + |   |   |
| Alumina | Al2O3 | + |   | - |   | + |   |   |   |   |   |   |   |   |   |   |
| Aluminium acetate | Al(OOCCH3)3 | aqueous |   | 0 | + | + | + | + | 0 |   | + | + |   | 0 |   |   |   |
| Aluminium chloride | AlCl3 | aqueous |   | + | + | + | 0 | 0 | 0 |   | + | 0 |   | + | + |   |   |
| Aluminium fluoride | AlF3 | aqueous |   | + | + | + | - | - | + |   | + | + |   | + |   |   |   |
| Aluminium sulfate | aqueous |   | + | + | + | 0 | 0 | - |   | + | 0 |   | + | + |   |   |
| Aluminiumäthylat | Al(OC2H5)2 | + |   | - |   | + | + |   |   |   |   |   |   |   |   |   |
| Aluminiumchlorat | Al(ClO3)3 | + |   | - |   | + |   |   |   |   |   |   |   |   |   |   |
| Aluminum acetate | (CH3COO)3Al | + |   | - |   | + | + |   |   |   |   |   |   |   |   |   |
| Aluminum fluoride | AlF3 | + |   | + | - | - |   |   |   |   |   |   |   |   | + |   |
| Aminoacetic acid | NH2CH2COOH | glycocoll |   | 0 | + | + | + | + | 0 |   | + | 0 |   | + |   |   |   |
| Ammonia | NH3 | 10% | 20°C | + | - | + | + | + | + |   |   |   | + | + | + |   | + |   |
| Ammonia | NH3 | anhydrous | liquid |   | - | 0 | 0 | + | + | 0 |   | + | + |   | 0 | + |   | + |
| Ammonia | NH3 | gas | pure |   | - | - | + | + | + | 0 |   | + | + |   | + | + |   |   |
| Ammonia liquors | ammonium hydroxide + water |   | - | 0 | + | + | + | - |   | + | + |   | 0 | + |   |   |
| Ammonium acetate | CH3COONH4 | aqueous |   | + | + | + | + | + | 0 |   | + |   |   | + |   |   |   |
| Ammonium bicarbonate | (NH4)HCO3 | + |   | - |   | + | + |   |   |   |   |   |   |   |   |   |
| Ammonium carbonate | (NH4)2CO3 | aqueous |   | + | + | + | + | + | - |   | + | + |   | + |   |   |   |
| Ammonium carbonate | (NH4)2CO3 | BP | + |   | - |   | + | + |   |   |   |   |   |   |   | + |   |
| Ammonium chloride | NH4Cl | 5% | 20°C | + | + | + | + | + | + |   |   |   |   |   |   |   | + |   |
| Ammonium chloride | NH4Cl | 10% | 20°C | + | + | + | + | + | + |   |   |   |   |   |   |   | + |   |
| Ammonium chloride | NH4Cl | 10% | 100°C | + |   | + |   | + | + |   |   |   |   |   |   |   | + |   |
| Ammonium chloride | NH4Cl | 50% | 20°C | + |   | + |   | + | - |   |   |   |   |   |   |   | + |   |
| Ammonium chloride | NH4Cl | aqueous |   | + | + | + | 0 | 0 | 0 |   | + | + |   | + | + |   |   |
| Ammonium citrate | aqueous |   | + | + | + | + | + | 0 |   | + | 0 |   | + |   |   |   |
| Ammonium diphosphate | (NH2)2HPO4 | + |   | + |   | + |   |   |   |   |   |   |   |   |   |   |
| Ammonium fluoride | NH4F | aqueous |   | + | + | + | 0 | 0 | 0 |   | + |   |   | + |   |   |   |
| Ammonium fluorsilicate | aqueous |   | + | + | + | + | + | 0 |   | + | 0 |   | + |   |   |   |
| Ammonium formiate | aqueous |   | + | + | + | + | + | 0 |   | + | + |   | + |   |   |   |
| Ammonium hydroxide | NH4OH | 10% | 20°C | + |   | + |   | + | + |   |   |   |   |   |   |   | + |   |
| Ammonium hydroxide | NH4OH | 10% | 100°C | + |   | + |   | + | + |   |   |   |   |   |   |   | + |   |
| Ammonium hydroxide + water | ammonia liquors |   | - | 0 | + | + | + | - |   | + | + |   | 0 | + |   |   |
| Ammonium nitrate | NH4NO3 | aqueous |   | + | + | + | + | + | - |   | + | + |   | + | + |   |   |
| Ammonium nitrate | NH4NO3 | BP | + |   | + |   | + | + |   |   |   |   |   |   |   | + |   |
| Ammonium oxalate | NH4OOCCOONH4 | aqueous |   | + | + | + | + | + | 0 |   | + | 0 |   | + |   |   |   |
| Ammonium persulfate | aqueous |   | - | + | + | 0 | 0 | 0 |   | + | - |   | 0 |   |   |   |
| Ammonium phosphate | (NH4)2HPO4 | aqueous |   | + | + | + | + | + | 0 |   | + | + |   | + |   |   |   |
| Ammonium sulfate | (NH4)2SO4 | aqueous |   | + | + | + | 0 | 0 | - |   | + | 0 |   | + | + |   |   |
| Ammonium sulfate | (NH4)2SO4 | BP | + |   | + |   | + | + |   |   |   |   |   |   |   | + |   |
| Ammonium sulfide | aqueous |   | + | 0 | + | + | + | - |   | + | + |   | + |   |   |   |
| Ammonium sulfite | aqueous |   | + | + | + | + | 0 | - |   | + | + |   | + |   |   |   |
| Ammonium thiocyanate | NH4NCS | aqueous |   | + | + | + | + | + | - |   | + | + |   | + |   |   |   |
| Amyl acetate | CH3COO(CH2)4CH3 | pure |   | - | - | 0 | + | + | + |   | 0 | + |   | - | + |   |   |
| Amyl alcohols | pure |   | + | + | 0 | + | + | + |   | + | + |   | + |   |   |   |
| Aniline | C6H5NH2 | + | - | + | - | + | + | 0 | - | - | 0 | + | - | + | - |   |
| Aniline hydrochloride | C6H5NH3Cl | aqueous | * acid resistant FKM compound |   | 0 | 0* | + | - | - | - |   | 0 | - |   | 0 |   |   |   |
| Aniseed oil |   | 0 |   |   | + | + | + |   | - | + |   | - |   |   |   |
| Anisole | C6H5OCH3 |   | 0 | - | 0 | + | + | + |   | - | + |   | - |   |   |   |
| Anone | C6H10O | cyclohexanone |   | - | - | - | + | + | 0 |   | - | + |   | - | + |   |   |
| Anthracene oil |   | - | - | - | + | + | + |   | - | + |   | - |   |   |   |
| Anthraquinone sulfonic acid | aqueous |   | 0 | + | + | 0 | 0 | 0 |   | + | 0 |   | + |   |   |   |
| Anti-Freeze | ethylene glycol |   | 0 | + | + |   |   | + |   | + |   |   | + | + |   |   |
| Antifrogen-N |   | + | + | + | + | + | 0 |   | + | + |   | + |   |   |   |
| Antimony chloride | SbCl3 | aqueous | * acid resistant FKM compound |   | 0 | +* | + | - | - | 0 |   | + | - |   | + | + |   |   |
| Apple acid | aqueous |   | + | + | + | + | + | - |   | + | + |   | + |   |   |   |
| Aqua regia | HNO3 + HCl |   | - | - | - | - | - | - |   | - | - |   | 0 | - |   |   |
| Arabic acid | aqueous |   | + | + | + | + | + | - |   | + |   |   | + |   |   |   |
| Argon | Ar |   | + | + | + | + | + | + |   | + | + |   | + | + |   |   |
| Arsenic acid | H3AsO4 | + | + | + | + | + | + |   |   |   |   |   |   |   | + |   |
| Arsenic acid | H3AsO4 | aqueous |   | + | + | + | + | + | - |   | + | 0 |   | + |   |   |   |
| Arsenic trichloride | AsCl3 | aqueous |   | + | + | + | 0 | 0 | - |   | + | - |   | + |   |   |   |
| Arsenious acid | H3AsO3 | aqueous |   | + | + | + | + | + | 0 |   | + |   |   | + |   |   |   |
| Aryl silicates | aqueous |   | 0 | 0 | 0 | + | + | + |   |   |   |   |   |   |   |   |
| Ascorbic acid | C6H8O6 | aqueous |   | + | + | + |   |   | - |   | + |   |   | + |   |   |   |
| Aspartic acid | HOOCCHNH2CH2- COOH | aqueous |   | + | + | + | + | + | - |   | + | + |   | + |   |   |   |
| Asphalt | + | - | + | - | + | + |   |   |   |   |   |   |   |   |   |
| ASTM-fuel A |   | 0 | 0 | - | + | + | + |   | 0 | + |   | + |   |   |   |
| ASTM-fuel B |   | 0 | 0 | - | + | + | + |   | 0 | + |   | 0 |   |   |   |
| ASTM-fuel C |   | 0 | 0 | - | + | + | + |   | 0 | + |   | 0 |   |   |   |
| ASTM-oil no. 1 |   | + | + | - | + | + | + |   | 0 | + |   | + |   |   |   |
| ASTM-oil no. 2 |   | 0 | + | - | + | + | + |   | 0 | + |   | + |   |   |   |
| ASTM-oil no. 3 |   | 0 | 0 | - | + | + | + |   | 0 | + |   | + |   |   |   |
| ATE Brake fluid |   | - | - | + | + | + | 0 |   | 0 | + |   | 0 | + |   |   |
| Barium chlorate | Ba(ClO3)2 | aqueous |   | + | + | + | + | + | + |   | + | - |   | + |   |   |   |
| Barium chloride | BaCl2 | aqueous |   | + | + | + | + | 0 | + |   | + | + |   | + | + |   |   |
| Barium hydroxide | Ba(OH)2 | aqueous |   | + | + | + | + | + | + |   | + | 0 |   | + |   |   |   |
| Barium sulfide and polysulfide | aqueous |   | + | + | + | + | + | 0 |   | + | - |   | + | + |   |   |
| Beer | + | + | + | + | + | + |   | + |   | + | + | + |   | + |   |
| Beeswax |   | + | + | + | + | + | + |   | + | - |   | + |   |   |   |
| Benzaldehyde | C6H5CHO | aqueous |   | 0 | + | + | + |   | 0 |   | + | 0 |   | - | + |   |   |
| Benzene | C6H6 | + | - | + | - | + | + | 0 | - | 0 | + | + | - | + | - | - |
| Benzene sulfonic acid | aqueous |   | + | + | + | + | + | 0 |   | + |   |   | + | - |   |   |
| Benzidine sulfonic acid | aqueous |   | + | + | + | + | + | + |   | + | + |   | + |   |   |   |
| Benzoic acid | C6H5COOH | aqueous |   | + | + | + | + | + | 0 |   | + | - |   | + | + |   |   |
| Benzyl alcohol | C6H5CH2OH | pure |   | - | 0 | + | + | + | + |   | + | 0 |   |   | + |   |   |
| Benzyl butyl phtalate | aqueous |   | - | - | - | + | + | + |   | 0 | + |   | - |   |   |   |
| Bergamot essence |   | - | - | - | + | + | 0 |   | - | - |   | - |   |   |   |
| Bisulfite | aqueous | sodium bisulfite |   | 0 | + | + | + | 0 | 0 |   | + | 0 |   | + | + |   |   |
| Bleaching solution | chlorinated lime | + | - | + | + | 0 | 0 |   | - |   | - | + | - |   |   |   |
| Bone oil |   | 0 | + | - | + | + | + |   | + | + |   | 0 |   |   | - |
| Borax | Na2B4O710H2O | + | + | + | + | + | + |   | + |   | + | + | + |   | + |   |
| Borax | N2B4O7 | aqueous |   | + | + | + | + | + | + |   | + | + |   | + | + |   |   |
| Boric acid | H3BO3 | 4% | 20°C | + | + | + | + | + | + |   | + |   | + | + | + |   | + |   |
| Boric acid | H3BO3 | 4% | 100°C | + | + | + | + | + | + |   |   |   |   |   |   |   | + |   |
| Boric acid | H3BO3 | 100% | 100°C | + | - | + |   | + | + |   | + |   | + |   |   |   | + |   |
| Boric acid | H3BO3 | aqueous |   | + | + | + | 0 | 0 | 0 |   | + | - |   | + | 0 |   |   |
| Borofluoric acid |   | + | + | + | - | - | - |   | + | - |   | + |   |   |   |
| Brake fluid | ATE Brake fluid |   | - | - | + | + | + | 0 |   | 0 | + |   | 0 | + |   |   |
| Brines | NaCl | 20% | + | + | + | + | 0 | 0 | 0 |   | + | + |   | + | + |   |   |
| Bromine | Br2 | liquid | pure |   | - | - | - | 0 | 0 | - |   | - | - |   | 0 | - |   |   |
| Butadiene | CH2(CH)2CH2 |   | 0 | 0 | 0 | + | + | + |   | + | + |   | + |   |   |   |
| Butane | C4H10 | + | + | + | - | + | + | 0 | 0 | + | + | + | + | + |   |   |
| Butanediol | HO(CH2)4OH | 10% | aqueous |   | + | 0 | + | + | + | + |   | 0 | + |   | 0 | + |   |   |
| Butanol | CH3(CH2)3OH | aqueous | butylalcohol |   | + | 0 | + | + | + | + |   | + | + |   | 0 | + |   |   |
| Butinediol |   | 0 | 0 | 0 | + | + | + |   | + | + |   | 0 | + |   |   |
| Butoxyl | CH3OC4H4O2CCH3 | methoxybutyl acetate |   | + | 0 | 0 | + | + | 0 |   | + |   |   | - |   |   |   |
| Buttermilk | 20°C | + |   | - |   | + | + |   |   |   |   |   |   |   |   |   |
| Butyl | CH3COOC4H9 | + | - | - | + | + |   |   | - |   | + | - | - |   | - |   |
| Butyl acetate | CH3(CH2)3O2CCH3 | pure |   | - | - | + | + | + | 0 |   | - | + |   | - | + |   | 0 |
| Butyl alcohol | C4H9OH | + |   | - |   | + | + |   | - |   | + | - |   |   |   |   |
| Butyl alcohol | CH3(CH2)3OH | butanol | aqueous |   | + | 0 | + | + | + | + |   | + | + |   | 0 | + |   |   |
| Butyl phtalate |   | - | - | - | + | + | + |   | 0 | + |   | - |   |   |   |
| Butylene | H3CCH2CHCH2 | liquid | pure |   | + | + | 0 | + | + | + |   | + | + |   | + |   |   |   |
| Butyric acid | H3C(CH2)2COOH | aqueous |   | 0 | 0 | 0 | + | 0 | 0 |   | - | 0 |   | 0 | + |   |   |
| Calcium bisulfite | Ca(HSO3)2 | 20°C | + | + | + | + | + |   |   |   |   |   |   |   |   |   |   |
| Calcium bisulfite | Ca(HSO3)2 | 200°C | + | - | + | - | + |   |   |   |   |   |   |   |   |   |   |
| Calcium bisulfite | aqueous |   | + | + | + | + | 0 | - |   | + | - |   | + | + |   |   |
| Calcium chloride | CaCl2 | 20°C | + | + | + | + | + |   |   | + |   | + | + |   |   | + |   |
| Calcium chloride | CaCl2 | 100°C | + | + | + | + | 0 |   |   |   |   |   |   |   |   | + | + |
| Calcium chloride | CaCl2 | aqueous |   | + | + | + | 0 | 0 | - |   | + | 0 |   | 0 | + |   |   |
| Calcium hydroxide | Ca(OH)2 | aqueous |   | + | + | + | + | + | + |   | + | + |   | + | + |   |   |
| Calcium hydroxide | Ca(OH)2 | milk of lime | + | + | + | + | + |   |   |   |   |   |   |   |   | + |   |
| Calcium hypochlorite | Ca(OCl)2 | aqueous |   | - | 0 | + | 0 | 0 | - |   | + | - |   | 0 | + |   |   |
| Calcium hypochlorite | Ca(ClO)2 | + | - | + | + | 0 |   |   |   |   |   |   |   |   | + |   |
| Calcium nitrate | Ca(NO3)2 | aqueous |   | + | + | + | 0 | 0 | 0 |   | + | + |   | + | + |   |   |
| Calcium sulfaminate | aqueous |   | + | + | + | + | + |   |   | + | + |   | + |   |   |   |
| Calcium sulphate | CaSO4 | + |   | - |   | + |   |   |   |   |   |   |   |   | + |   |
| Camphor oil |   | + | + | - | + | + | 0 |   | - |   |   | + |   |   |   |
| Car-battery fluid (20% sulfuric acid) |   | 0 | + | + | + | 0 | - |   | + | - |   | + | 0 |   |   |
| Carbitol | CH3CH2O(CH2)2- O(CH2)2OH |   | 0 | 0 | 0 | + | + | + |   |   | + |   | + |   |   |   |
| Carbolic acid | C6H5OH | aqueous | phenol |   | 0 | 0 | 0 | + | + | 0 |   | + | - |   | + | + |   |   |
| Carbolineum |   | 0 | 0 | 0 | + | + | + |   | - | + |   | + |   |   |   |
| Carbon dioxide | CO2 | 400°C | dry | - | - | - | - | + | + |   | - |   | - | - | - |   |   |   |
| Carbon dioxide | CO2 | < 60°C | dry | + |   | + | + | + | + |   | + |   | + | + | + |   |   |   |
| Carbon dioxide | CO2 | dry |   | + | + | + | + | 0 | + |   | + | + |   | + | + |   |   |
| Carbon dioxide | CO2 | wet |   | + | + | + | + | 0 | 0 |   | + | 0 |   | + | + |   |   |
| Carbon disulphide | CS2 | 20°C | + | - | + | - | + | + | 0 |   | 0 | 0 |   | - |   | + |   |
| Carbon monoxide | CO |   | + | + | + | + | + | + |   | + | + |   | + | + |   | + |
| Carbon tetrachloride | CCl4 | + | - | + | - | + | + | 0 | - | - | + | - | - | + |   |   |
| Carbonic acid | H2CO3 | aqueous |   | + | + | + | + | + | 0 |   | + | 0 |   | + | + |   |   |
| Caros acid | aqueous |   | - | - | - | - | - | - |   | - | - |   | + |   |   |   |
| Castor oil |   | 0 | 0 | - | + | + | 0 |   | 0 | + |   | 0 | + |   |   |
| Caustic potash | KOH | aqueous | potassium hydroxide |   | 0 | 0 | + | + | + | 0 |   | + | 0 |   | 0 | + |   |   |
| Caustic soda | aqueous | sodium hydroxide |   | 0 | 0 | + | + | + | 0 |   | + | 0 |   | 0 | + |   |   |
| Cellosolve | HO(CH2)2OCH2CH3 | glycol ethyl ether |   | - | - | - | + | + | + |   | - | + |   | - |   |   |   |
| Cellulose varnishes |   | - | - | 0 | + | + | 0 |   | 0 | + |   | - |   |   |   |
| Chlophene | chlorinated diphenyl |   | + | + | 0 | + | + | + |   | + |   |   | - |   |   |   |
| Chloral hydrate | CCl3CH(OH)2 | Chloral | aqueous |   | - | 0 | 0 | 0 | 0 | 0 |   | - | - |   | - |   |   |   |
| Chloramines | aqueous | activin |   | - | - | 0 | + | + |   |   |   | - |   | - |   |   |   |
| Chlorbenzenes | pure |   | - | - | - | + | + | + |   | - | + |   | - | + |   |   |
| Chloric acid | HClO3 | aqueous |   | - | - | 0 | - | - | - |   | - | - |   | + |   |   |   |
| Chloride of lime | aqueous | calcium hypochlorite |   | - | 0 | + | 0 | 0 | - |   | + | - |   | 0 | + |   |   |
| Chlorinated water | chlorine gas -wet | |   | - | 0 | - | - | - | - |   | - | - |   | + | - |   |   |
| Chlorine | Cl2 | gas | dry |   | - | 0 | - | + | + | + |   | - | - |   | + | + |   |   |
| Chlorine | Cl2 | gas | wet |   | - | 0 | - | - | - | - |   | - | - |   | + | - |   |   |
| Chlorine | Cl2 | liquid | pure |   | - | 0 | - | + | + | + |   | - | - |   | - | - |   |   |
| Chlorine bleach | sodium hypochlorite |   | - | 0 | 0 | 0 | 0 | 0 |   | 0 | - |   | + | + |   |   |
| Chlorine dioxide | ClO2 | aqueous |   | - | - | - | 0 | 0 | - |   | 0 | - |   | + |   |   |   |
| Chlorine | Cl2 | 20°C | dry | + | - | + | + | + |   |   | - |   | - | - | - |   | + |   |
| Chlorine | Cl2 | 80°C | dry | + | - | + |   | + |   |   | - |   | - | - | - |   | + |   |
| Chlormethane | methyl chloride |   | - | - | - | 0 | 0 | 0 |   | - | + |   | - |   |   |   |
| Chloroacetic acid | ClCH2COOH | aqueous |   | - | - | 0 | 0 | - | 0 |   | - | - |   | 0 | + |   |   |
| Chloroethanol | ClCH2CH2OH | ethylene chlorhydrine |   | - | 0 | - | + | + | + |   | + | 0 |   | - |   |   |   |
| Chloroform | CHCl3 | 20°C | + | - | + | - | + | 0 | 0 | - | - | - | - | - | + | + | - |
| Chloronaphtalene |   | - | 0 | - | + | + | + |   | - | + |   | - |   |   |   |
| Chlorophenol |   | - | - | - | + | + | + |   |   |   |   | 0 |   |   |   |
| Chlorophenoxyacetic acid | ClC6H4OCHOOH |   | + | + | + | + | + |   |   | + |   |   | + |   |   |   |
| Chlorosulfonic | HOSO2Cl | BP | + | - | - | - |   |   |   |   |   |   |   |   |   |   |   |
| Chlorosulfonic acid | ClSO3H | pure |   | - | - | - | 0 | 0 | 0 |   | - | - |   | 0 | - |   |   |
| Chlorxylenol |   | - | - | - | + | + | + |   |   |   |   | 0 |   |   |   |
| Choline chloride | [HOCH2CH2N(CH3)3]Cl | aqueous |   | + | + | + |   |   | - |   | 0 |   |   | 0 |   |   |   |
| Chromic acid | H2CrO4 | 10% | 20°C | + | - | + | - | + | + |   | - |   | - | 0 | - |   | + |   |
| Chromic acid | H2CrO4 | 10% | BP | + | - | + | - | + | 0 |   | - |   | - |   |   |   | - | - |
| Chromic acid | H2CrO4 | 50% | 20°C | + | - | + | - | + | 0 |   | - |   | - |   |   |   | + | - |
| Chromic acid | H2CrO4 | aqueous |   | - | + | 0 | 0 | 0 | - |   | 0 | - |   | + | 0 |   |   |
| Chromium alum | aqueous |   | + | + | + | 0 | 0 | 0 |   | + | 0 |   | 0 |   |   | - |
| Chromium sulfate | aqueous |   | + | + | + | 0 | 0 | 0 |   | + | 0 |   | + |   |   |   |
| Citral | citronella oil |   | - | - | - | + | + | + |   | - | + |   |   |   |   |   |
| Citric acid | (CH2COOH)2C(OH)COOH | 20°C | + | + | + | + | + | + |   | + |   | + | + | + |   | + |   |
| Citric acid | C6H8O7 | aqueous |   | + | + | + | + | 0 | 0 |   | + | + |   | + | + |   |   |
| Citric acid | (CH2COOH)2C(OH)COOH | BP | + |   | + |   | + | + |   |   |   |   |   |   |   | + | + |
| Clophen T64 | + | - | - | - | + |   |   |   |   |   |   |   |   |   |   |
| Coal gas | + | + | + | - | + |   |   |   |   |   |   |   |   |   |   |
| Coconut oil |   | 0 | 0 | - | + | + | 0 |   | 0 | + |   | 0 | + |   |   |
| Cod | liver oil |   | 0 | + | 0 | + | + | 0 |   | + |   |   | + |   |   |   |
| Color liquor, alkaline or neutral | 20°C | + |   | - |   | + |   |   |   |   |   |   |   |   |   |   |
| Color liquor, alkaline or neutral | BP | + |   | - |   | + |   |   |   |   |   |   |   |   |   |   |
| Color liquor, organic acid | 20°C | + |   | - |   | + |   |   |   |   |   |   |   |   |   |   |
| Color liquor, organic acid | BP | + |   | - |   | + |   |   |   |   |   |   |   |   |   |   |
| Color liquor, very sulfuric | H2SO4 über 0,3% | 20°C | + |   | - |   | + |   |   |   |   |   |   |   |   |   |   |
| Color liquor, very sulfuric | H2SO4 über 0,3% | BP | + |   | - |   | 0 |   |   |   |   |   |   |   |   |   |   |
| Color liquor, weakly sulfuric | H2SO4 unter 0,3% | BP | + |   | - |   | + |   |   |   |   |   |   |   |   |   |   |
| Common salt | sodium chloride |   | + | + | + | 0 | 0 | 0 |   | + | + |   | + | + |   |   |
| Copper acetate | Cu(CH3COO)2 | aqueous |   | 0 | + | + | + | + | 0 |   | + | 0 |   | + | + |   |   |
| Copper acetate wss. Sol. | (CH3COO)2Cu | 20°C | + |   | - |   | + | + |   |   |   |   |   |   |   |   |   |
| Copper acetate wss. Sol. | (CH3COO)2Cu | BP | + |   | - |   | + | + |   |   |   |   |   |   |   |   |   |
| Copper chloride | CuCl2 | aqueous |   | + | + | + | - | - | 0 |   | + | 0 |   | + | + |   |   |
| Copper sulfate | CuSO4 | 20°C | copper vitriol | + | + | + | + | + | + |   |   |   |   |   |   |   | + |   |
| Copper sulfate | aqueous |   | + | + | + | 0 | 0 | 0 |   | + | 0 |   | + | + |   |   |
| Copper sulfate | CuSO4 | BP | copper vitriol | + |   | + |   | + | + |   |   |   |   |   |   |   | + | + |
| Cottonseed oil |   | 0 | 0 | - | + | + | + |   | - |   |   | + |   |   |   |
| Creosote | 20°C | + |   | - |   | + |   |   |   |   |   |   |   |   |   |   |
| Creosote | BP | + |   | - |   | + |   |   |   |   |   |   |   |   |   |   |
| Cresol | C6H4(OH)(CH3) | aqueous | lysol |   | - | 0 | - | + | 0 | + |   | 0 | - |   | 0 | + |   |   |
| Cyclanone | fatty alcohol sulfonate |   | + | + | + | + | + |   |   | + | + |   | + |   |   |   |
| Cyclohexane | C6H12 | pure |   | - | 0 | - | + | + | + |   | - | + |   | + | + |   |   |
| Cyclohexanol | C6H11OH | pure |   | - | + | - | + | + | + |   | + | + |   | 0 | + |   |   |
| Cyclohexanone | C6H10O | pure | anone |   | - | - | - | + | + | 0 |   | - | + |   | - | + |   |   |
| Cymene | C6H4(CH3)[CH(CH3)2] |   | - | - | - | + | + | + |   | - | + |   | - |   |   |   |
| Decahydronaphtalene | decalin | pure |   | - | + | - | + | + | + |   | 0 | + |   | + |   |   |   |
| Desmodur T | polyisocyanate |   | - | + | - | + | + | + |   |   |   |   |   |   |   |   |
| Desmophen | saturated polyester |   | + | + | + | + | + |   |   |   |   |   |   |   |   |   |
| Detergents | synt. detergents |   | 0 | 0 | + | + | + | 0 |   | 0 | 0 |   | + |   |   |   |
| Dextrin | aqueous |   | + | + | + | + | + | + |   | + | + |   | + |   |   |   |
| Dextrose | C6H12O6 | aqueous |   | + | + | + | + | + | + |   | + | + |   | + |   |   |   |
| Diacetone alcohol | (CH3)2COHCH2COCH3 | anhydrous |   | - | - | + | + | + | 0 |   |   | 0 |   |   |   |   |   |
| Diazotization bath | 20°C | weakly acidic | + |   | - |   | 0 |   |   |   |   |   |   |   |   |   |   |
| Diazotization bath | 80°C | weakly acidic | + |   | - |   | 0 |   |   |   |   |   |   |   |   |   |   |
| Dibutyl phthalate | C6H4(COOC4H9)2 | pure |   | - | - | 0 | + | + | + |   | 0 | + |   | 0 |   |   |   |
| Dibutyl sebacate | (C4H9COO)(CH2)8-(OOC4H9) | pure |   | - | - | 0 | + | + | + |   | + | + |   | - |   |   |   |
| Dichlorethane | ethylene chloride |   | - | - | - | + | + | + |   | 0 | + |   | - | + |   |   |
| Dichlorethylene | pure |   | - | 0 | - | + | + | + |   | - | + |   | - | + |   |   |
| Dichlormethane | methylene chloride |   | - | 0 | - | 0 | 0 | 0 |   | 0 | 0 |   | - | + |   |   |
| Dicyclohexyl | ammonium nitrite |   | + | + | + | + | + | 0 |   |   |   |   |   |   |   |   |
| Diesel fuel | + | + | + | - | + | + | + | + | 0 | + | 0 | 0 | + |   |   |
| Diethyl ether | CH3CH2OCH2CH3 |   | - | - | - | + | + | + |   | + | + |   | - | + |   | + |
| Dimethyl amine |   | - | - | 0 | + | + | 0 |   | 0 | - |   | - |   |   |   |
| Dimethyl formamide | pure |   | - | - | - | + | + | 0 |   | + | - |   | - | + |   |   |
| Dimethyl sulfoxide | (CH3)2SO |   |   |   |   |   |   |   |   |   | 0 |   |   | 0 |   |   |
| Dioctyl phtalate | pure |   | - | 0 | 0 | + | + | + |   | + | + |   | - |   |   |   |
| Dioxane | C4H8O | pure |   | - | - | 0 | + | + | + |   | - | + |   | - |   |   |   |
| Diphenyl + diphenyloxide |   | - | - | - | + | + | + |   | - | + |   | - |   |   |   |
| Diphyl | + |   | - |   | + |   |   |   |   |   |   |   |   |   |   |
| Dowtherm A | + | - | - | - | + |   |   |   |   |   |   |   |   |   |   |
| Essential oils |   | - | - | - | + | + | 0 |   | - | - |   | - |   |   |   |
| Ethane | C2H6 | + | + | + | - | + | + | + |   | + | + |   | + | + |   |   |
| Ethanol | C2H5OH | + | - | - | - | + | + |   |   |   |   |   |   |   |   |   |
| Ethanol | C2H5OH | aqueous | ethyl alcohol |   | + | 0 | + | + | + | + |   | + | 0 |   | + | + |   |   |
| Ethanolamine | NH2CH2CH2OH |   | 0 | - | 0 | + | + | - |   | + | + |   | 0 |   |   |   |
| Ether | CH3CH2OCH2CH3 | diethyl ether |   | - | - | - | + | + | + |   | + | + |   | - | + |   |   |
| Ethyl acetate | CH3COOC2H5 | BP | + | - | - | - | + |   | 0 |   | 0 | 0 |   | - | + | - |   |
| Ethyl alcohol | CH3CH2OH | fermentation mash |   | + | + | + | + | + | + |   | + | 0 |   | + | + |   |   |
| Ethyl alcohol | CH3CH2OH | aqueous | ethanol |   | + | 0 | + | + | + | + |   | + | 0 |   | + | + |   |   |
| Ethyl alcohol - denaturated | depending on denaturant |   | 0 | 0 | 0 | + | + | 0 |   | + | 0 |   | + | + |   |   |
| Ethyl alcohol + acetic acid | CH3CH2OH+ CH3COOH |   | 0 | 0 | + | + | + | 0 |   | + | - |   | + | + |   |   |
| Ethyl benzene | pure |   | - | 0 | - | + | + | + |   | - | + |   | - |   |   |   |
| Ethyl chloride | CH3CH2Cl | pure |   | - | 0 | - | + | 0 | 0 |   | 0 | + |   | - |   |   |   |
| Ethyl ether | C2H5OC2H6 | + | - | - | - | + |   |   |   |   |   |   |   |   |   |   |
| Ethyl formiate |   | - | - | 0 | + | + | + |   | 0 | + |   | - |   |   |   |
| Ethylene | C2H4 | + |   | + |   | + | + |   |   |   |   |   |   |   |   |   |
| Ethylene | CH2CH2 |   | + | + | + | + | + | + |   | + | + |   | + |   |   |   |
| Ethylene chlorhydrine | chloroethanol |   | - | 0 | - | + | + | + |   | + | 0 |   | - | 0 |   |   |
| Ethylene chloride | (CH2Cl)2 | 20% | dichloroethane | + | - | + | - | + |   |   |   |   |   |   |   |   | + |   |
| Ethylene diamine | pure |   | 0 | 0 | + | + | 0 | - |   | + | 0 |   | - |   |   |   |
| Ethylene dibromide | anhydrous |   | - | - | - | + | + | + |   | - | + |   | - | - |   |   |
| Ethylene dichloride | dichloroethane |   | - | - | - | + | + | + |   | 0 | + |   | - | 0 |   |   |
| Ethylene glycol | HOCH2CH2OH | aqueous | glycol |   | + | + | + | + | 0 | 0 |   | 0 | 0 |   | 0 | + |   |   |
| Ethylene oxide | CH2CH2O | liquid, pure |   | - | - | - | + | + | + |   | - | - |   | - |   |   |   |
| Fat alcohol sulfates | aqueous |   | + | + | 0 | + | + | 0 |   | + | 0 |   | + |   |   |   |
| Fat alcohols |   | + | + | 0 | + | 0 | + |   | 0 | + |   | + |   |   |   |
| Fats, fatty oils |   | 0 | 0 | - | + | + | 0 |   | 0 | + |   | 0 | + |   |   |
| Fatty acids from C6 | + | - | + | - | + | - |   |   |   |   |   |   |   | + |   |
| Ferrous/ferric chloride | aqueous |   | + | + | + | - | - | - |   | + | - |   | + | + |   |   |
| Ferrous/ferric sulfate | aqueous |   | + | + | + | + | + | 0 |   | + | + |   | + | + |   |   |
| Fluoboric acid | borofluoric acid |   | + | + | + | - | - | - |   | + | - |   | + |   |   |   |
| Fluorine | F2 | dry | pure |   | - | 0 | - | 0 | 0 | 0 |   | - | - |   | 0 | - |   |   |
| Fluorine | F2 | wet | pure |   | - | - | - | 0 | 0 | - |   | - | - |   | 0 | - |   |   |
| Fluorocarbons | see Freon |   |   |   |   |   |   |   |   |   | + |   |   | + |   |   |
| Fluosilicic acid | H2SiF6 | aqueous |   | 0 | 0 | 0 | 0 | 0 | - |   | + | - |   | + |   |   |   |
| Formaldehyde | HCHO | 40% | 20°C | + | - | + | + | + | + |   | 0 |   | - | + | - |   | + |   |
| Formaldehyde | HCHO | 40% | BP | + | - | + |   | + | + |   |   |   |   |   |   |   |   | + |
| Formaldehyde | HCHO | aqueous |   | 0 | + | + | + | 0 | 0 |   | 0 | + |   | 0 | 0 |   |   |
| Formamide | HCONH2 | pure |   | + | 0 | + | + | 0 | 0 |   | 0 | 0 |   | + |   |   |   |
| Formic acid | HCOOH | 10% | 20°C | + | - |   |   | + |   |   |   |   |   |   |   |   | + | - |
| Formic acid | HCOOH | 10% | 100°C | + | - | - | - | 0 |   |   |   |   |   |   |   |   | + |   |
| Formic acid | HCOOH | 100% | 20°C | + | - | - | - | + |   |   | - |   | - | 0 | - |   | + | - |
| Formic acid | HCOOH | 100% | 100°C | + | - | - | - | 0 | - |   | - |   | - |   | - |   | + | + |
| Formic acid | HCOOH | concentrated |   | - | - | 0 | + | 0 | 0 |   | + | - |   | + | 0 |   |   |
| Formic acid | HCOOH | aqueous |   | - | + | 0 | + | 0 | 0 |   | + | - |   | + | + |   |   |
| Freon 113 |   | + | + | + | + | + | + |   | 0 | + |   | + | + |   | - |
| Freon 12, Frigen 12 | + | + | - | 0 | + | + | + |   | 0 | + |   | + | + |   |   |
| Freon 13 |   | + | 0 | 0 |   |   |   |   |   |   |   |   |   |   |   |
| Freon 13 B 1 | Halon |   | + | 0 | 0 | + | + | + |   | 0 | + |   | + |   |   |   |
| Freon 22 |   | - | - | - | + | + | + |   | 0 | + |   | + | + |   |   |
| Freon 23 |   | 0 | 0 | 0 |   |   |   |   |   |   |   |   |   |   |   |
| Freon 502 |   | - | - | - | + | + | + |   | 0 | + |   | + | + |   |   |
| Freon substitude HFCKW 123 |   | - | - | - | + | + | + |   |   |   |   |   |   |   |   |
| Freon substitude HFCKW 134a |   |   | - |   | + | + | + |   |   |   |   |   | + |   |   |
| Freon TF | Freon 113 |   | + | + | + | + | + | + |   | 0 | + |   | + | + |   |   |
| Fruit tree carbolineum |   | 0 | 0 | 0 | + | + | + |   | - | + |   | + |   |   |   |
| Fuel oils |   | 0 | 0 | - | + | + | 0 |   | 0 | + |   | 0 |   |   |   |
| Gas liquor |   | + | 0 | - | + | + | - |   |   |   |   | 0 |   |   |   |
| Gasoline | petrol |   | + | + | - | + | + | + |   | 0 | + |   | + | + |   |   |
| Gelatine | aqueous |   | + | + | + | + | + | 0 |   | + | + |   | + | + |   |   |
| Glacial acetic acid | CH3COOH | 20°C | + | - | - | - | + | + |   |   |   |   |   |   |   |   |   |
| Glucose | aqueous |   | + | + | + | + | + | + |   | + | + |   | + | + |   | - |
| Glycerin | (CH2OH2)CHOH | 20% | + | + | + | + | + | + |   | + |   | + | + | + |   | + |   |
| Glycerin | (CH2OH2)CHOH | 100% | + | - | + | + | + | + |   | - |   | + | + | + |   | + |   |
| Glycerin | aqueous |   | + | + | + | + | 0 | 0 |   | 0 | + |   | 0 | + |   |   |
| Glycocoll | aqueous | aminoacetic acid |   | 0 | + | + | + | + | 0 |   | + | 0 |   | + |   |   | + |
| Glycol | HOCH2CH2OH | aqueous |   | + | + | + | + | 0 | 0 |   | 0 | 0 |   | 0 | + |   |   |
| Glycol ethyl ether | HO(CH2)2OCH2CH3 | cellosolve |   | - | - | - | + | + | + |   | - | + |   | - |   |   |   |
| Glycolic acid | HOCH2COOH | aqueous |   | + | + | + | 0 | 0 | 0 |   | + | - |   | + |   |   |   |
| Grape sugar | aqueous |   | + | + | + | + | + | + |   | + | + |   | + | + |   |   |
| Hair shampoo |   | 0 | 0 | 0 | + | + | 0 |   | 0 | + |   | + |   |   |   |
| Heat transfer oils | + |   | - |   | + | + |   |   |   |   |   |   |   |   |   |
| Helium | He |   | + | + | + | + | + | 0 |   | 0 | 0 |   | 0 | + |   |   |
| Heptane, Hexane | petrol | pure |   | + | + | - | 0 | 0 | + |   | - | + |   | + | + |   |   |
| Hexamethylene tetramine | C6H12 N4 | aqueous |   | + | + | + | + | + | 0 |   | + | + |   | + |   |   |   |
| Humic acids |   | + | + | + | + | + | + |   | + | - |   | + |   |   |   |
| Hydraulic fluids, mineral oils (H, H-L, H-LP) |   | 0 | 0 | - | + | + | + |   | + | + |   | + |   |   |   |
| Hydraulic fluids, oil-in-water emulsions (HSA) |   | 0 | + | - | + | + | + |   | + | + |   | + |   |   |   |
| Hydraulic fluids, phosphoric ester (HSD) |   | - | 0 | 0 | + |   | + |   | - | - |   | - |   |   |   |
| Hydraulic fluids, polyglycol-water solutions (HSC) |   | + | + | + | + | + | + |   | + | + |   | + |   |   |   |
| Hydraulic fluids, water-in-oil emulsions (HSB) |   | 0 | + | - | + | + | + |   | + | + |   | + |   |   |   |
| Hydrazine hydrate | NH2NH2 x 2H2O | aqueous |   | - | + | + | 0 | 0 | - |   | + |   |   | + | + |   |   |
| Hydrobromic acid | aqueous |   | - | + | + | - |   | - |   | + | - |   | + | - |   |   |
| Hydrochloric acid | HCl | 10% | 20°C | + | + | + | + | + |   |   | 0 |   | - | + | 0 |   | + |   |
| Hydrochloric acid | HCl | 20% | 50°C | + |   | + |   | 0 |   |   |   |   | - |   |   |   | + | - |
| Hydrochloric acid | HCl | 100% | 20°C | + | + | + | + | 0 |   |   | 0 |   | - | + | 0 |   | + | - |
| Hydrochloric acid | HCl | aqueous |   | - | 0 | 0 | - | - | - |   | + | - |   | + | 0 |   |   |
| Hydrochloric acid | HCl | gas | pure |   | 0 | 0 | 0 | 0 | 0 | 0 |   | + | - |   | + | + |   | - |
| Hydrochloric vapors | 20°C | + |   | + |   | - | - |   | 0 |   | - | + | 0 |   | + |   |
| Hydrocyanic acid | HCN |   | 0 | + | 0 | + | 0 | + |   | + | - |   | + |   |   |   |
| Hydrofluoric acid | HF | aqueous | * acid resistant FKM compound |   | 0 | 0* | 0 | 0 | - | - |   | + | - |   | 0 | - |   |   |
| Hydrogen | H2 | + | + | + | + | + | + | + |   | + | + |   | + | + | + |   |
| Hydrogen peroxide | H2O2 | 20% | + | - | - | + | + | + |   | 0 |   | + | + | - |   | + |   |
| Hydrogen peroxide | H2O2 | 50% | + | - | - |   | + | + |   |   |   |   |   |   |   | + | 0 |
| Hydrogen peroxide | H2O2 | 0,5% |   | 0 | + | + | 0 | + | - |   | + | + |   | + | + |   |   |
| Hydrogen peroxide | H2O2 | 30% | * acid resistant FKM compound |   | - | +* | 0 | - | 0 | - |   | + | - |   | + | + |   |   |
| Hydrogen sulfide | aqueous |   | 0 | + | + | + | 0 | 0 |   | 0 | - |   | 0 | + |   |   |
| Hydrogen sulfide, gas, moist | H2S | 20°C | + | - | - | + | + | + |   |   |   |   |   |   |   | + |   |
| Hydrogen sulphide, gas, dry | H2S | 20°C | + | - | - | + | + | + |   |   |   |   |   |   |   | + |   |
| Hydroquinone | C6H4(OH)2 | aqueous |   | + | + | + | + | + |   |   | + | - |   | + |   |   |   |
| Hydroxylamine | (NH2OH)H2SO4 | 10% | 20°C | + | + | + | + | + | + |   |   |   |   |   |   |   |   |   |
| Hydroxylamine | (NH2OH)H2SO4 | 10% | BP | + |   | + |   | + | + |   |   |   |   |   |   |   |   |   |
| Hydroxylamine sulfate | aqueous |   | + | + | + | + | + | - |   | + | + |   | + |   |   |   |
| Illuminating gas |   | + | + | + | + | + | + |   |   | + |   | + |   |   |   |
| Impregnating oils | wood tar |   | - | - | - | + | + | + |   | - | + |   | 0 |   |   |   |
| Inert Gases |   | + | + | + | + | + | + |   | + | + |   | + | + |   |   |
| Iodine tincture |   | 0 | 0 | 0 | 0 | 0 | 0 |   | 0 | - |   | - | 0 |   |   |
| Iodine+Potassium Iodide | aqueous |   | 0 | 0 | 0 | 0 | 0 | - |   | 0 | - |   | 0 | 0 |   |   |
| Isobutyl alcohol | pure |   | 0 | + | + | + | + | + |   | + | + |   | 0 | + |   |   |
| Isooctane | CH3C(CH3)2CH2CH (CH3)CH3 | pure |   | + | + | - | + | + | + |   | + | + |   | + | + |   |   |
| Isopropanol | CH3CH(OH)CH3 | pure | propanol |   | + | + | + | + | + | + |   | + | 0 |   | + | + |   |   |
| Kalisalpeter | + |   | - |   | + |   |   |   |   |   |   |   |   |   |   |
| Kaliumhydrogenartrat | COOH(CHOH)2COOK | 20°C | + |   | - |   | + |   |   |   |   |   |   |   |   |   |   |
| Kerosene | pure |   | + | + | - | + | + | + |   | + | + |   | + | + |   |   |
| Kerosene L |   | + | + | - | + | + | + |   | 0 | + |   | + | + |   |   |
| Lactic acid | HOOCCH(OH)CH3 |   | 0 | + | 0 | 0 | 0 | 0 |   | + | 0 |   | 0 | + |   |   |
| Laughing gas | N2O | nitrous oxide |   | + | 0 | + | + | + | + |   | + | + |   | + |   |   |   |
| Lead acetate | Pb(CH3COO)2 | 100% | BP | Lead Sugar | + | + | - | + | + | + |   |   |   |   |   |   |   | + |   |
| Lead acetate | Pb(CH3COO)2 | aqueous |   | 0 | + | + | + | + | 0 |   | + | + |   | + | + |   |   |
| Lead arsenate | Pb3(AsO4)2 | + |   | - |   | + |   |   |   |   |   |   |   |   |   |   |
| Lead nitrate | Pb(NO3)2 | aqueous |   | + | + | + | + | + | - |   | + |   |   | + |   |   |   |
| Lead tetraethyl | Pb(CH2CH3)4 | pure | tetraethyl lead |   | 0 | + | 0 | + | + | 0 |   | + | + |   | + |   |   |   |
| Lime | Ca(OH)2 | 20°C | + |   | + |   | + | + |   |   |   |   |   |   |   |   |   |
| Lime | Ca(OH)2 | BP | + | - | + | - | + | + |   |   |   |   |   |   |   |   |   |
| Linoleic acid | C18H32O |   | 0 | 0 | - | + | 0 | 0 |   | - |   |   | + |   |   |   |
| Linseed oil |   | 0 | 0 | - | + | + | 0 |   | 0 | + |   | 0 | + |   |   |
| Linseed oil | 20°C | + | + | + | - | + | + |   | + |   | + | + | - |   | + |   |
| Linseed oil | 100°C | + | - | + | - | + | + |   |   |   |   |   |   |   | + |   |
| Lithium chloride | LiCl | aqueous |   | + | + | + | 0 | 0 | 0 |   | + | 0 |   | + |   |   |   |
| Lubricating oil | mineral oils; machine oils |   | + | + | - | + | + | + |   | + | + |   | 0 | + |   |   |
| Lubricating oils for drills and saws |   | 0 | 0 | - | + | + | + |   | 0 | 0 |   | + |   |   |   |
| Lysol | cresols |   | - | 0 | - | + | 0 | + |   | 0 | - |   | 0 | + |   |   |
| Machine oils | see paraffin oil, or mineral oils; lubricating oils |   | + | + | - | + | + | + |   | + | + |   | 0 | + |   |   |
| Magnesium chloride | MgCl2 | aqueous |   | + | + | + | 0 | 0 | 0 |   | + | 0 |   | + | + |   |   |
| Magnesium sulfate | MgSO4 | 20°C | + | + | + | + | + | + |   |   |   |   |   |   |   | + |   |
| Magnesium sulfate | aqueous |   | + | + | + | 0 | 0 | + |   | + | 0 |   | 0 | + |   |   |
| Magnesium sulfate | MgSO4 | BP | + |   | + |   | + | + |   |   |   |   |   |   |   | + |   |
| Maleic acid | HOOCCHCHCOOH | aqueous |   | + | + | + | + | 0 | 0 |   | + | 0 |   | + | + |   |   |
| Manganese chloride | MnCl2 | 20°C | + |   | + |   | + | + |   |   |   |   |   |   |   |   |   |
| Manganese chloride | MnCl2 |   | + | + | + | 0 | 0 | 0 |   | + | + |   | + |   |   |   |
| Manganese chloride | MnCl2 | BP | + |   | + |   | + | + |   |   |   |   |   |   |   |   |   |
| Manganese sulfate |   | + | + | + | + | 0 | 0 |   | + | + |   | + |   |   |   |
| Marsh gas | CH4 | methane |   | + | + | - | + | + | + |   | 0 | + |   | + | + |   |   |
| Mercaptanes |   | - | 0 | - | + | + | 0 |   |   | + |   | + |   |   |   |
| Mercury (II) nitrate | Hg(NO3)2 | 20°C | + |   | - |   | + | + |   | + |   | + | + | - |   | + |   |
| Mercury | Hg |   | + | + | + | 0 | + | - |   | + | + |   | + | + |   |   |
| Mercury | Hg | + | + | + | + | + | + |   | + |   | + | + | - |   | + |   |
| Mercury (II) chloride (sublimate) | HgCl2 | 20°C | + |   | + |   | + | + |   | + |   | + | + | - |   | + |   |
| Mercury chloride |   | + | + | + | 0 | 0 | - |   | + | - |   | 0 | + |   |   |
| Mercury salts | aqueous |   | + | + | + | + | + | - |   | + | - |   | + | + |   |   |
| Mersols | alkane sulfonic acid chloride |   | + | + | 0 | 0 | 0 | 0 |   | 0 |   |   | + |   |   |   |
| Methane | CH4 | pure |   | + | + | - | + | + | + |   | 0 | + |   | + | + |   |   |
| Methanol | CH3OH | methyl alcohol |   | - | - | 0 | + | + | 0 |   | 0 | 0 |   | 0 | + |   |   |
| Methoxybutanol | CH3O(CH2)3CH2OH |   | + | + | + | + | + | + |   | + |   |   | + |   |   |   |
| Methyl acetate | CH3COOCH3 | pure |   | - | - | 0 | 0 | 0 | 0 |   | + | + |   | - | + |   |   |
| Methyl alcohol | CH3OH | 20°C | + |   | - |   | + | + |   |   |   |   |   |   |   | + |   |
| Methyl alcohol | CH3OH | methanol |   | - | - | 0 | + | + | 0 |   | 0 | 0 |   | 0 | + |   |   |
| Methyl alcohol | CH3OH | BP | + |   | - |   | + | + |   |   |   |   |   |   |   | + |   |
| Methyl amine | aqueous |   | - | 0 | 0 | 0 | 0 | - |   | + | 0 |   | 0 | + |   |   |
| Methyl chloride | CH3Cl | chloromethane |   | - | - | - | 0 | 0 | 0 |   | - | 0 |   | - | + |   |   |
| Methyl ethyl ketone | CH3COCH2CH3 | pure |   | - | - | 0 | + | + | + |   | - | 0 |   | - | 0 |   |   |
| Methyl ethyl ketone | CH3COC2H5 | BP | butanone | + |   | - |   | + |   |   |   |   |   |   |   |   |   |   |
| Methylene chloride | CH2Cl2 | 20°C | + | - | - | - | + | + |   |   |   |   |   |   |   | - |   |
| Methylene chloride | CH2Cl2 | dichloromethane |   | - | 0 | - | 0 | 0 | 0 |   | 0 | - |   | - | + |   | - |
| Methylene chloride | CH2Cl2 | BP | + | - | - | - | + | + |   |   |   |   |   |   |   | - | - |
| Milk | + | + | + | - | + | + |   |   |   |   |   |   |   | + |   |
| Mineral oils | free from aromatic hydrocarbons |   | + | + | - | + | + | + |   | + | + |   | 0 | + |   |   |
| Molasses |   | + | + | + | + | + | 0 |   | + | + |   | + | + |   |   |
| Morpholine | C4H9NO | pure |   | - | 0 | 0 | + | + | + |   | + |   |   | - |   |   |   |
| Natural gas |   | + | + | - | + | + | 0 |   | 0 | + |   | + | + |   |   |
| Natural gas | + | + | + | - | + | + |   |   |   | + | + | + |   | + |   |
| Nekal BX | aqueous | wetting agents for textilesNickel baths |   | + + | + + | + + | + + | 0 | 0 - |   | + + | + |   | + + |   |   | + |
| Nickel sulfate | aqueous |   | + | + | + | 0 | 0 | - |   | + | + |   | + | + |   |   |
| Nitric acid | HNO3 | 10% | 20°C | + | - | + | - | + |   |   | - |   | - | 0 | - |   | + |   |
| Nitric acid | HNO3 | 10% | BP | + | - | + | - | + |   |   | - |   | - |   | - |   | + | - |
| Nitric acid | HNO3 | 40% | 20°C | + | - | + | - | + |   |   | - |   | - |   | - |   | + | - |
| Nitric acid | HNO3 | 40% | BP | + | - | + | - | + |   |   | - |   | - |   | - |   | + | - |
| Nitric acid | HNO3 | 100% | 20°C | + | - | + | - | + |   |   | - |   | - |   | - |   | - | - |
| Nitric acid | HNO3 | 100% | BP | + | - | + | - | 0 |   |   | - |   | - |   | - |   | - | - |
| Nitric acid | HNO3 | 40% | aqueous |   | - | + | 0 | 0 | 0 | - |   | 0 | - |   | 0 | 0 |   |   |
| Nitrobenzenes | pure |   | - | 0 | - | + | + | + |   | 0 | - |   | - | 0 |   | - |
| Nitrobenzoic acids | C7H5NO4 | aqueous |   | + | + | + | + | + | + |   | + | + |   | + |   |   |   |
| Nitrogen | N2 | + | + | + | + | + | + |   | + |   | + | + | + |   | + |   |
| Nitrogen | N2 |   | + | + | + | + | + | + |   | 0 | + |   | 0 | + |   |   |
| Nitrogen oxides | (NO, NO2, N2O3 , N2O4, etc.) | gaseous, wet and dry | NO, NO2, N2O4 |   | - | - | 0 | + | + | - |   | 0 | - |   | 0 | + |   | + |
| Nitrotoluenes (0-, m-, p) | pure |   | 0 | 0 | - | + | + | + |   | + | - |   | - | 0 |   |   |
| Nitrous oxide | N2O |   | + | 0 | + | + | + | + |   | + | + |   | + |   |   |   |
| Oils | 20°C | lubricating oils, mineral | + | + | + |   | + | + |   | + |   | + | + |   |   | + |   |
| Oils | 20°C | vegetarian | + | + | + |   | + | + |   | + |   | + | + | 0 |   | + | + |
| Oleic acid | C17H33COOH | + | + | - | + | + | + |   |   |   |   |   | 0 |   | + | + |
| Oleum | H2SO4 | fuming sulfuric acid |   | - | 0 | - | + | 0 | - |   | 0 | - |   | 0 | - |   |   |
| Olive oil |   | 0 | 0 | - | + | + | 0 |   | 0 | + |   | 0 | + |   |   |
| Oxalic acid | COOHCOOH | + | - | + | + | + | + |   |   |   |   |   | - |   | - |   |
| Oxalic acid | aqueous |   | + | + | + | 0 | 0 | 0 |   | + | - |   | + | + |   |   |
| Oxygen | O2 | 20°C | + | + | + |   | + | + | + |   | + | + | + | + | + | + |   |
| Ozone | O3 | wet and dry |   | - | 0 | 0 | + | + | 0 |   | 0 | - |   | 0 | 0 |   |   |
| Paraffin oil |   | + | + | - | + | + | + |   | + | + |   | 0 | + |   |   |
| Pentylacetate | CH3COOC5H11 | + |   | - |   | + |   |   |   |   |   |   |   |   |   |   |
| Peracetic acid | CH3CO3H | 6% | aqueous |   | - | + | + | + | + | - |   |   | - |   | + |   |   |   |
| Perchloroethylene | Cl2CCCl2 | tetrachlorethylene | pure |   | - | 0 | - | 0 | 0 | 0 |   | 0 | 0 |   | 0 | + |   |   |
| Petrol | gasoline | + | 0 | + | - | + | + | + |   | 0 | + | - | 0 | + | + | + |
| Petrol | gasoline | benzene mix |   | - | 0 | - | + | + | 0 |   | - | 0 |   | - | + |   |   |
| Petrolether |   | + | + | - | + | + | + |   | 0 | + |   | + | + |   |   |
| Petroleum | 20°C | + | + | - | - | + | + |   |   |   |   |   |   |   |   |   |
| Phenol | C6H5OH | aqueous |   | 0 | 0 | 0 | + | + | 0 |   | + | - |   | + | 0 |   | + |
| Phenol | C6H5OH | carbolic acid | + | - | + | - | + | 0 |   | - |   | - | - | - |   | 0 |   |
| Phosgene | COCl2 | gaseous | pure |   |   | + | - | + | + | + |   | - | 0 |   | + |   |   | - |
| Phosgene | COCl2 | liquid | pure |   |   | 0 | - | + | + | + |   | 0 | 0 |   | 0 |   |   |   |
| Phosphor chloride | pure |   | - | 0 | - | 0 | 0 |   |   | + | - |   | - | + |   |   |
| Phosphoric acid | H3PO4 | 10% | 20°C | + |   | + |   | + | + |   |   |   |   |   |   |   | + |   |
| Phosphoric acid | H3PO4 | 10% | BP | + |   | + |   | + | + |   |   |   |   |   |   |   | + | + |
| Phosphoric acid | H3PO4 | 50% | 20°C | + |   | + |   | + | + |   |   |   |   |   |   |   | + |   |
| Phosphoric acid | H3PO4 | 50% | BP | + |   | + |   | 0 | - |   |   |   |   |   |   |   | + |   |
| Phosphoric acid | H3PO4 | 80% | 20°C | + |   | + |   | + | 0 |   | - |   | - | - |   |   | + |   |
| Phosphoric acid | H3PO4 | 80% | BP | + |   | + |   | - | - |   | - |   | - | - |   |   | + |   |
| Phosphoric acid | H3PO4 | aqueous |   | 0 | + | + | 0 | 0 | 0 |   | 0 | - |   | 0 | + |   |   |
| Photo | emulsions, developers, fixers |   | 0 | 0 | 0 |   |   |   |   | + |   |   | + |   |   |   |
| Picric acid | C6H2(OH)(NO2)3 | trinitrophenol |   | 0 | 0 | - | + | + | + |   | + |   |   | - | + |   |   |
| Pine | needle oil |   | 0 | + | - | + | + | 0 |   | + |   |   | 0 |   |   |   |
| Pinene | turpentine oil |   | 0 | 0 | - | + | + | 0 |   | - | + |   | 0 | + |   |   |
| Potash | K2CO3 | potassium carbonate |   | + | + | + | + | + | 0 |   | + | 0 |   | + | + |   |   |
| Potassium | KOCl | 20°C | + |   | - |   | 0 |   |   |   |   |   |   |   |   |   |   |
| Potassium acetate | CH3COOH | BP | + | + | - | + | + |   |   |   |   |   |   |   |   |   |   |
| Potassium aluminium sulfate | aqueous | alum |   | + | + | + | + | 0 | - |   | + | + |   | + | + |   |   |
| Potassium bifluoride | aqueous |   | + | + | + | + | + | 0 |   | + | - |   | + |   |   |   |
| Potassium bromate | KBrO3 | aqueous |   | + | + | + | + | 0 | - |   | + |   |   | + |   |   |   |
| Potassium bromide | KBr | aqueous |   | + | + | + | 0 | 0 | + |   | + | - |   | + | + |   |   |
| Potassium carbonate | K2CO3 | 50% | 20°C | + | + | + | + | + | + |   | - |   | + | + | + |   | + |   |
| Potassium carbonate | K2CO3 | aqueous | potash |   | + | + | + | + | + | 0 |   | + | 0 |   | + | + |   |   |
| Potassium carbonate | K2CO3 | BP | potash | + |   | + |   | + |   |   |   |   |   |   |   |   |   |   |
| Potassium chlorate | KClO3 | aqueous |   | 0 | 0 | 0 | 0 | 0 | 0 |   | + | 0 |   | + | + |   |   |
| Potassium chlorate | KClO3 | BP | at 100 °C, saturated sol. | + | - | + | + | + |   |   |   |   |   |   |   |   | + |   |
| Potassium chloride | KCl | aqueous |   | + | + | + | 0 | 0 | 0 |   | + | + |   | + | + |   |   |
| Potassium chromate | K2CrO4 | aqueous |   | 0 | 0 | + | 0 | 0 | + |   | + | - |   | + |   |   |   |
| Potassium chromium sulfate | KCr(SO4)212H2O | 20°C | chromium alum | + |   | + |   | + |   |   |   |   |   |   |   |   |   |   |
| Potassium chromium sulfate | KCr(SO4)212H2O | BP | chromium alum | + |   | - |   | - |   |   |   |   |   |   |   |   |   |   |
| Potassium cyanide | KCN | 5% | 20°C | + | - | - | - | + | + |   |   |   |   |   |   |   |   |   |
| Potassium cyanide | KCN | aqueous |   | + | + | + | + | + | - |   | + | + |   | + | + |   |   |
| Potassium dichromate | K2Cr2O7 | 25% | 20°C | + | - | - | + | + |   |   | + |   | - | + | + |   | + |   |
| Potassium dichromate | K2Cr2O7 | aqueous |   | 0 | 0 | 0 | + | + | 0 |   | + | - |   | + | + |   |   |
| Potassium dichromate | K2Cr2O7 | BP | + | - | - |   | + |   |   |   |   |   |   |   |   | + |   |
| Potassium ferricyanide | red potassium prussiate | aqueous |   | + | + | + | + | + | - |   | + | + |   | + | + |   |   |
| Potassium ferrocyanide | K4[Fe(CN)6] | yellow potassium prussiate | aqueous |   | + | + | + | 0 | - | + |   | + | + |   | + | + |   |   |
| Potassium hydrogenartrate | COOH(CHOH)2COOK | BP | at 100 °, saturated sol. | + |   | - |   | 0 |   |   |   |   |   |   |   |   |   |   |
| Potassium hydroxide | KOH | 25% | 20°C | caustic potash | + |   | - |   | + |   |   |   |   |   |   |   |   | + |   |
| Potassium hydroxide | KOH | 25% | BP | caustic potash | + |   | - |   | + |   |   |   |   |   |   |   |   | + | + |
| Potassium hydroxide | KOH | 50% | 20°C | caustic potash | + |   | - |   | + |   |   |   |   |   |   |   |   | + |   |
| Potassium hydroxide | KOH | 50% | BP | caustic potash | + |   | - |   | + |   |   |   |   |   |   |   |   | + | + |
| Potassium hydroxide | KOH | aqueous | caustic potash |   | 0 | 0 | + | + | + | 0 |   | + | 0 |   | 0 | + |   |   |
| Potassium hypochlorite | KOCl | aqueous |   | - | 0 | 0 | 0 | 0 | 0 |   | 0 | - |   | + | + |   |   |
| Potassium hypochlorite up to 20 g akt. C12 / l | KOCl | 40°C | + |   | - |   | 0 |   |   |   |   |   |   |   |   |   |   |
| Potassium iodide | KJ | + | + | + | + | + | + |   | 0 |   | + | + | + |   |   |   |
| Potassium iodide | KI | aqueous |   | + | + | + | 0 | 0 | 0 |   | + |   |   | 0 |   |   |   |
| Potassium nitrate | KNO3 | 20°C | + | + | + | + | + | + |   | 0 |   | + | + | + |   | + |   |
| Potassium nitrate | KNO3 | aqueous |   | + | + | + | 0 | 0 | 0 |   | + | + |   | 0 | + |   |   |
| Potassium nitrate | KNO3 | BP | + |   | + |   | + | + |   |   |   |   |   |   |   | + |   |
| Potassium nitrite | KNO2 | aqueous |   | + | + | + | + | + | + |   | + | + |   | + | + |   |   |
| Potassium permanganate | KMnO4 | 20°C | + | - | + | + | + | + |   | - |   | - | + | + |   | + |   |
| Potassium permanganate | KMnO4 | aqueous |   | - | - | - | + | 0 | 0 |   | 0 | - |   | + | + |   |   |
| Potassium permanganate | KMnO4 | BP | + | - | + |   | + | + |   |   |   |   |   |   |   | + | + |
| Potassium peroxide | K2O2 | aqueous |   | - | - | - | + | + | - |   | 0 | - |   | 0 | + |   |   |
| Potassium persulfate | aqueous |   | - | 0 | + | + | + | - |   | + | - |   | + | + |   |   |
| Potassium phosphate | K3PO4 | aqueous |   | + | + | + | + | + | 0 |   | + | 0 |   | + | + |   |   |
| Potassium sulfate | aqueous |   | + | + | + | + | + | + |   | + | + |   | + | + |   |   |
| Potassium sulfide | aqueous |   | + | + | + | + | + | 0 |   | + | 0 |   | + | + |   |   |
| Potassium sulfite | aqueous |   | + | + | + | + | 0 | 0 |   | + | + |   | 0 | + |   |   |
| Propane | C3H8 | 20°C | + | + | + | - | + | + | 0 | 0 | + | + | + | + | + | + | + |
| Propanol | CH3CH2CH2OH | isopropanol |   | + | + | + | + | + | + |   | + | 0 |   | + | + |   |   |
| Propylenglykol | pure |   | + | + | + | + | + | + |   | + | 0 |   | + | + |   |   |
| Pydraul-A 150 |   | - | + | 0 | + |   | - |   |   | + |   |   |   |   |   |
| Pydraul-A 200 |   | - | + | 0 | + |   | - |   |   | + |   |   |   |   |   |
| Pydraul-AG |   | - | + | + | + |   | - |   |   | + |   |   |   |   |   |
| Pydraul-F-9 |   | - | + | + | + |   | - |   |   | - |   |   |   |   |   |
| Pyridine | C5H5N | pure |   | - | - | - | + | 0 | + |   | 0 | 0 |   | - | + |   |   |
| Rubber seals up to 130 °C, *acid resistant FKM compound |   | 0 | +* | + | + | + | 0 |   | - | - |   | - | + |   |   |
| Sagrotan | phenols |   | 0 | 0 | 0 | + | + | 0 |   | + | - |   | + | 0 |   |   |
| Salicylic acid | C6H4OHCOOH | 20°C | + | + | + | + | + |   |   |   |   |   |   |   |   | + |   |
| Seawater | 20°C | + | + | + | + | + | + |   |   |   |   |   |   |   |   | + |
| Seawater | BP | + |   | + |   | + | - |   |   |   |   |   |   |   |   |   |
| Silicone oil | + | + | + | + | + | + | + | + | + | + | + | + | + | + | + |
| Silver nitrate | AgNO3 | aqueous |   | 0 | + | + | + | + | - |   | + | + |   | 0 | + |   |   |
| Skydrol 500 |   | - | 0 | + | + | + | - |   |   | 0 |   | - | + |   |   |
| Skydrol 7000 |   | - | - | + | + | + | - |   |   | 0 |   | - |   |   |   |
| Soap solution | + | + | + | + | + | + |   | 0 |   | + | + | + |   | + |   |
| Soap solution | aqueous |   | 0 | 0 | 0 | + | + | 0 |   | 0 | 0 |   | 0 |   |   |   |
| Soda | sodium carbonate |   | + | + | + | + | + | 0 |   | + | + |   | + | + |   |   |
| Sodium | CH3COONa | + |   | - |   | + |   |   |   |   |   |   |   |   | + |   |
| Sodium arsenate, sodium arsenite |   | + | + | + | + | + | + |   | + |   |   | + |   |   |   |
| Sodium benzoate | C6H5COONa | aqueous |   | + | + | + | + | + | + |   | + | + |   | + |   |   |   |
| Sodium bicarbonate | NaHCO3 | aqueous |   | + | + | + | + | + | 0 |   | + | + |   | + | + |   |   |
| Sodium bisulfate | aqueous |   | + | + | + | 0 | 0 | 0 |   | + | + |   | + |   |   |   |
| Sodium bisulfite | aqueous | bisulfite |   | 0 | + | + | + | 0 | 0 |   | + | + |   | + | + |   |   |
| Sodium bromate | NaBrO3 | aqueous |   | + | + | + | + | 0 | - |   | + | 0 |   | + | 0 |   |   |
| Sodium bromide | NaBr | aqueous |   | + | + | + | 0 | 0 | 0 |   | + | - |   | + | + |   |   |
| Sodium carbonate | Na2CO3 | 20°C | soda solution, cold | + | + | - | + | + | + |   |   |   |   |   |   |   | + | + |
| Sodium carbonate | Na2CO3 | soda |   | + | + | + | + | + | 0 |   | + | + |   | + | + |   |   |
| Sodium carbonate | Na2CO3 | BP | soda solution | + |   | - |   | + | + |   |   |   |   |   |   |   | + |   |
| Sodium chlorate | NaClO3 | aqueous |   | 0 | 0 | 0 | 0 | 0 | 0 |   | + | 0 |   | + | + |   |   |
| Sodium chloride | NaCl | aqueous | common salt |   | + | + | + | 0 | 0 | 0 |   | + | + |   | + | + |   |   |
| Sodium chlorite | NaClO2 | aqueous |   | - | 0 | 0 | 0 | - | 0 |   | 0 | - |   | 0 |   |   |   |
| Sodium chloroacetates |   | + | + | + | + | + | 0 |   | + |   |   | + |   |   |   |
| Sodium chromate | NaCrO4 | aqueous |   | 0 | 0 | + | 0 | 0 | + |   | + | - |   | + | 0 |   |   |
| Sodium cyanide | NaCN | aqueous |   | + | + | + | + | + | - |   | + | + |   | + | + |   |   |
| Sodium dodecylbenzene sulfonate |   | + | + | + | + | + | 0 |   | 0 | + |   | + |   |   |   |
| Sodium fluoride | NaF | aqueous |   | + | + | + | + | 0 | + |   | + | + |   | + |   |   |   |
| Sodium glutamate |   | + | + | + | + | + |   |   | + |   |   | + |   |   |   |
| Sodium hydroxide | NaOH | 20% | 20°C | sodium hydroxide solution | + | - | - | + | + | + |   |   |   |   |   |   |   | + | + |
| Sodium hydroxide | NaOH | 20% | BP | sodium hydroxide solution | + | - | - |   | + | 0 |   |   |   |   |   |   |   | + |   |
| Sodium hydroxide | NaOH | 35% | 20°C | sodium hydroxide solution | + | - | - |   | + | 0 |   |   |   |   |   |   |   | + | + |
| Sodium hydroxide | NaOH | 35% | BP | sodium hydroxide solution | + | - | - |   | + | - |   |   |   |   |   |   |   | - |   |
| Sodium hydroxide | NaOH | aqueous | caustic soda |   | 0 | 0 | + | + | + | 0 |   | + | 0 |   | 0 | + |   |   |
| Sodium hypochlorite | chlorine bleach |   | - | 0 | 0 | 0 | 0 | 0 |   | 0 | - |   | + | + |   |   |
| Sodium iodide | NaI | aqueous |   | + | + | + | 0 | 0 | 0 |   | + |   |   | 0 |   |   |   |
| Sodium mercaptobenzothiazol |   | 0 | + | 0 | + | + | + |   | + |   |   | + |   |   |   |
| Sodium nitrate | NaNO3 | aqueous |   | + | + | + | 0 | 0 | 0 |   | + | + |   | 0 | + |   |   |
| Sodium nitrite | NaNO2 | aqueous |   | + | + | + | + | + | + |   | + | + |   | + | + |   |   |
| Sodium pentachlorphenolate |   | + | + | + | + | + | + |   | + | + |   | + |   |   |   |
| Sodium perborate | NaBO3 x nH2O | aqueous |   | 0 | + | + | + | + | 0 |   | + |   |   | + |   |   |   |
| Sodium persulfate | aqueous |   | 0 | + | + | + | 0 | - |   | + | - |   | + |   |   |   |
| Sodium phosphate | Na3PO4 | aqueous |   | + | + | + | 0 | 0 | 0 |   | + | + |   | + |   |   |   |
| Sodium propionate | CH3CH2COONa |   | + | + | + | + | + | + |   | + | + |   | + |   |   |   |
| Sodium pyrosulfite |   | 0 | + | + | + | 0 | 0 |   | + | + |   | + |   |   |   |
| Sodium silicate | aqueous |   | + | + | + | + | + | 0 |   | + | + |   | + | + |   |   |
| Sodium stannate | Na2SnO3 |   | + | + | + | + | + | 0 |   | + | 0 |   | + |   |   |   |
| Sodium sulfate | aqueous |   | + | + | + | + | + | + |   | + | + |   | + | + |   |   |
| Sodium sulfide | aqueous |   | + | + | + | + | + | 0 |   | + | + |   | + | + |   |   |
| Sodium sulfite | aqueous |   | + | + | + | + | + | 0 |   | + | + |   | + | + |   |   |
| Sodium sulphate | Na2SO4 | + | + | + | + | + | + |   | + |   | + | + | + |   | + |   |
| Sodium tartrate | C₄H₄O₆Na₂ |   | + | + | + | + | + | + |   | + | + |   | + |   |   |   |
| Sodium thiosulfate | aqueous |   | + | + | + | 0 | 0 | 0 |   | + | + |   | + |   |   |   |
| Sodium zincate | Na2[Zn(OH)4] |   | 0 | + | + | + | + |   |   |   |   |   |   |   |   |   |
| Solvent naphtha (Shellsol D 60 and D 70) |   | 0 | 0 | - | + | + | + |   | 0 | + |   | 0 | + |   |   |
| Spindle oil | mineral oils |   | + | + | - | + | + | + |   | + | + |   | 0 | + |   |   |
| Spinning baths | H2SO4 | + |   | - |   | + | - |   |   |   |   |   |   |   | + |   |
| Spruce oil |   | 0 | + | - | + | + | 0 |   | + |   |   | 0 |   |   |   |
| Starch solution | + | + | + | + | + | + | 0 | + | + | + | + | + | + | + |   |
| Steam | water vapor | + | - | - | + | + | + |   |   |   |   |   |   |   |   |   |
| Stearic acid | C17H35COOH | + | + | + | + | + | + |   | + |   | 0 | - | + |   | + |   |
| Stearic acid | C18H37COOH |   | + | + | + | + | + | 0 |   | + | + |   | + |   |   |   |
| Styrene | C6H5CHCH2 |   | - | 0 | - | + | + | 0 |   | 0 | + |   | - | + |   |   |
| Succinic acid | HOOCCH2CH2COOH | aqueous |   | + | + | + | + | + | + |   | + |   |   | + |   |   |   |
| Sugar solution | 20°C | + | + | + | + | + | + |   | + |   | + | + | + |   | + | + |
| Sugar solution | 80°C | + | + | + |   | + | + |   | + |   | + | + | + |   | + | + |
| Sulfur chlorides and oxychlorides |   | - | + | - | + | - | 0 |   | - | - |   | - | + |   |   |
| Sulfur dioxide | SO2 | + | - | - | + | + |   |   | - |   | + | + | 0 |   | + | - |
| Sulfur dioxide | gas | dry |   | - | + | + | + | 0 | 0 |   | + | + |   | + | + |   |   |
| Sulfur dioxide | gas | wet |   | - | + | + | + | 0 | - |   | + | 0 |   | + | + |   |   |
| Sulfur dioxide | liquid | anhydrous |   | - | 0 | 0 | + | 0 | 0 |   | 0 |   |   | 0 | + |   |   |
| Sulfur hexafluoride |   | + | + |   | + | + | + |   | + | + |   | + | + |   |   |
| Sulfuric acid | H2SO4 | 1% | 20°C | + | - | - | + | + | 0 |   | 0 |   | - | + | - |   | + | + |
| Sulfuric acid | H2SO4 | 10% | 20°C | + | - | - | + | + | - |   | 0 |   | - | + | - |   | + | + |
| Sulfuric acid | H2SO4 | 90% | 20°C | + | - | - | - | + | - |   |   |   | - | + | - |   | + | - |
| Sulfuric acid | H2SO4 | 100% | 20°C | + | - | - | - | + | 0 |   |   | + | - | + | - | - | - | - |
| Sulfuric acid | aqueous |   | 0 | + | + | + | 0 | - |   | + | - |   | + | 0 |   |   |
| Sulfuric acid | H2SO3 | cold | saturated. Sol. | + | - | + | + | + | + |   |   |   |   | + |   |   | + |   |
| Sulfurous acid | aqueous |   | 0 | + | + | 0 | - | - |   | + | - |   | + | + |   |   |
| Sulphite liquor | Ca(HDO3)2 | 20°C | fresh cooker, spent liquor | + |   | + |   | + | + |   |   |   |   |   |   |   |   |   |
| Sulphite liquor | Ca(HDO3)2 | 80°C | fresh cooker, spent liquor | + |   | + |   | + | - |   |   |   |   |   |   |   |   |   |
| Tall oil |   | 0 | 0 | 0 | + | 0 | - |   | + | + |   | + |   |   |   |
| Tannic acid |   | + | + | + | + | + | 0 |   | + | + |   | + |   |   |   |
| Tannic acid | C76H52O46 | 10% | 20°C | + | + | + | + | + | + |   |   |   |   |   |   |   |   |   |
| Tannic acid | C76H52O46 | 10% | BP | + |   | + |   | + | + |   |   |   |   |   |   |   |   |   |
| Tannic acid | C76H52O46 | 50% | 20°C | + |   | + |   | + | + |   |   |   |   |   |   |   |   |   |
| Tar | 180°C | neutral | + | - | + | - | + | + |   | - |   | - | - | - |   |   |   |
| Tar oil | carbolineum |   | 0 | 0 | 0 | + | + | + |   | - | + |   | + |   |   |   |
| Tartaric acid | (CHOHCOOH)2 | 20°C | + |   | + |   | + | + |   | + |   | + | + | + |   | + |   |
| Tartaric acid | C4H6O6 | aqueous |   | + | + | + | + | + | - |   | + | 0 |   | + | + |   |   |
| Tetrachloroethylene | Cl2CCCl2 | perchloroethylene |   | - | 0 | - | 0 | 0 | 0 |   | 0 | - |   | 0 | + |   |   |
| Tetraethyl lead | Pb(CH2CH3)4 |   | 0 | + | 0 | + | + | 0 |   | + | + |   | + | + |   |   |
| Tetrahydrofuran | C4H8O | pure |   | + | - | - | + | + |   |   | 0 | + |   | - | + |   |   |
| Tetrahydronaphtalene | tetralin | pure |   | - | + | - | + | + | + |   | - | + |   | - |   |   |   |
| Thiophene | C4H4S | pure |   | - | - | - | + | + | 0 |   | 0 |   |   | - |   |   |   |
| Tin chlorides | SnCl2, SnCl4 | stannous and stannic chlorides | aqueous |   | + | + | + | 0 | - | - |   | + | 0 |   | + | + |   |   |
| Toluene | C6H5CH3 | 20°C | + | - | 0 | - | + | + |   | - |   | + | - | - |   | + | + |
| Toluene | C6H5CH3 | pure |   | - | - | - | + | + | 0 |   | 0 | + |   | - | + |   |   |
| Transformer oil (see mineral oils or if applicable chlophene) |   |   |   |   |   |   |   |   |   |   |   |   |   |   |   |
| Tributyl phosphate - pure | phosphoric acid tributylester |   | - | - | - | + | + | + |   | + |   |   | - |   |   |   |
| Trichlorethylene | C2HCl3 | + | - | + | - | + | + |   | - |   | 0 | - | - |   | + | - |
| Trichloroacetic acid | Cl3CCOOH | aqueous |   | 0 | - | 0 | - | - | - |   | 0 | - |   | + |   |   |   |
| Trichloroethylene | C2HCl3 | pure |   | - | 0 | - | + | + | + |   | 0 | - |   | 0 | + |   |   |
| Trichloromethane | CHCl3 | chloroform |   | - | 0 | - | + | 0 | 0 |   | - | - |   | - | + |   |   |
| Tricresyl phosphate | pure |   | - | - | - | + | + | 0 |   | 0 | + |   | - |   |   |   |
| Triethanolamine | (CH2CH2OH)3N | pure |   | - | - | - | + | + | 0 |   | + | 0 |   | - |   |   |   |
| Turpentine | 20°C | + | - | + | - | + | + |   | - |   | + | - | - |   |   |   |
| Turpentine | oil of turpentine | pure |   | 0 | 0 | - | + | + | 0 |   | - | + |   | 0 | + |   |   |
| Turpentine substitute |   | 0 | 0 | - | + | + | + |   | 0 | + |   | 0 | + |   |   |
| Uranium hexafluoride | UF6 |   | + | + | + | + | 0 |   |   | + | - |   | + |   |   |   |
| Urea | (NH2)2CO | 20% | + | + | + | + | + | + |   | + |   | + | + | + |   | + |   |
| Urea | NH2CONH2 | aqueous |   | + | + | + | 0 | 0 | 0 |   | + | + |   | + | + |   |   |
| UV - protective |   | - | - | + |   |   |   |   |   |   |   |   |   |   |   |
| Varnishes |   | 0 | + | - | + | + | + |   | - | + |   | + |   |   |   |
| Vaseline oil | mineral oils |   | + | + | - | + | + | + |   | + | + |   | 0 | + |   |   |
| Vinegar |   | + | + | + | + | + | - |   | + | - |   | + | + |   |   |
| Vinyl acetate | CH2CHOOCH2CH3 | pure |   | + | + | + | + | + | 0 |   | + |   |   | - |   |   |   |
| Vinyl chloride | CH2CHCl | pure |   | - | + | 0 | 0 | 0 | - |   | 0 | + |   | - |   |   |   |
| Waste gases | with carbon dioxide |   | + | + | + | + | 0 | + |   | + | + |   | + |   |   |   |
| Waste gases | with carbon monoxide |   | + | + | + | + | + | + |   | + | + |   | + |   |   |   |
| Waste gases | with nitrous gases |   | 0 | + | + | + | + | - |   | + | - |   | + |   |   |   |
| Waste gases | with hydrogen fluoride |   | + | + | + | 0 | 0 | 0 |   | + | 0 |   | + |   |   |   |
| Waste gases | with hydrochloric acid |   | + | + | + | 0 | - | 0 |   | + | - |   | + |   |   |   |
| Waste gases | with sulfur trioxide | dry |   | 0 | + | + | + | + | 0 |   | + | + |   | + |   |   |   |
| Waste gases | with sulfur dioxide | dry |   | 0 | + | + | + | + | + |   | + | 0 |   | + |   |   |   |
| Waste gases | with sulfuric acid |   | 0 | + | + | + | 0 | - |   | + | - |   | + |   |   |   |
| Water | H2O | distilled |   | 0 | 0 | 0 | + | 0 | 0 |   | + | + |   | + | + |   |   |
| Water | H2O | seawater |   | + | + | + | 0 | 0 | 0 |   | + | + |   | + | + |   |   |
| Water | H2O | fresh and drinking water | + | + | + | + | + | + |   | + |   | + | + | + |   | + | + |
| Water-glass (sodium silicate) | H2O |   | + | + | + | + | + | 0 |   | + | + |   | + | + |   |   |
| Water glass (K- and Na-silicate) | K2SiO3Na2HCl3 | + |   | + |   | + | + |   | - |   | + | + | + |   |   |   |
| Wetting agents for textiles | Nekal BX |   | + | + | + | + | + | 0 |   | + |   |   | + |   |   |   |
| Wine vinegar | 20°C | + |   | + |   | + | + |   |   |   |   |   |   |   | + |   |
| Wood tar, Wood oil | impregnating oils |   | - | - | - | + | + | + |   | - | + |   | 0 |   |   |   |
| Xenon | Xe |   | + | + | + | + | + | + |   | - | + |   | - | + |   |   |
| Xylene | C6H4(CH3)2 | 20°C | + | - | + | - | + | + |   | - |   | + | - | - |   | + |   |
| Xylene | C6H4(CH3)2 | pure |   | - | - | - | + | 0 | 0 |   | - | + |   | - | + |   |   |
| Yeast | aqueous |   | + | + | + | + | + | 0 |   | + | + |   | + | + |   |   |
| Zinc chloride | ZnCl2 | aqueous |   | + | + | + | 0 | - | - |   | + | - |   | + | + |   |   |
| Zinc sulfate | aqueous |   | + | + | + | + | - | - |   | + |   |   | + | + |   |   |
Additional Information
Click one of the links below for more information: