Thread Compatibility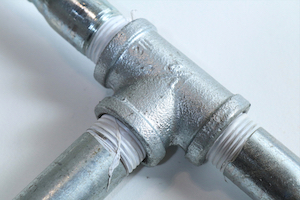 Figure 1: Tee-joint pipe connection with threaded connection points
Thread compatibility ensures that an external thread can properly connect with an internal thread of the same standard. Compatible threads have the same geometry, which can be difficult to notice with the naked eye. Learning how to measure the size and pitch of threads can help ensure compatibility. This article describes the compatibility of the most common thread types in Europe, Canada, and the United States.
Explore Tameson's selection of thread cutting tools
Incompatible threads
Despite some claims, using incompatible threads is, at best inefficient and, at worst life-threatening. Some claim that pipe sealant or thread tape can prevent leaks with incompatible threads. This is not true. High pressure can disconnect incompatible threads. One of the components, such as a pillar valve on an air cylinder, can fly off the system and potentially injure someone near the point of failure. Media leakage can also occur, which is dangerous if the media is toxic.
Thread adapters
Compatible threads are likely available when looking for threaded fasteners (e.g., bolts and nuts) to use with a locally-purchased appliance. However, when purchasing an appliance from another part of the world, the issue of incompatible threads can arise. For example, if someone from the United States buys an espresso machine from Italy. The espresso machine will likely have a British Standard Pipe (BSP) threaded connection point. However, the person who purchased the device will probably only have Unified Thread Standard threaded fasteners on hand.
Consider a thread adapter rather than risking failure, damage, or injury that can occur with incompatible threads. Thread adapters, such as the one seen in Figure 2, solve the issue of incompatible threads. Adapters come in many different materials and are applicable for joining threads of several standards.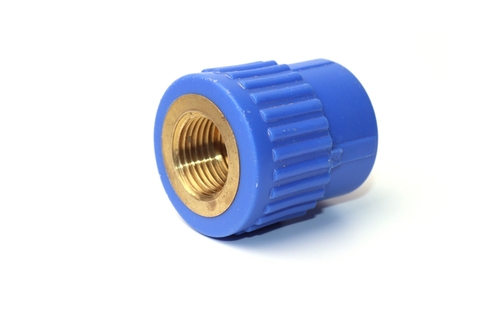 Figure 2: A brass and PVC internal thread adapter
Thread compatibility chart
The following thread compatibility chart details which thread types are suitable for connecting. Straight thread connections require a washer, whereas tapered connections do not. With straight threads, the external and internal threads are parallel with each other. Therefore, the crests, roots, and flanks do not interfere with one another. This leaves a small gap that media can flow through and cause leakage. Tapered connections do not have this issue, however thread sealant or Teflon tape is still necessary.
Name
Abbreviation
Male/Female
Compatible with
Seal
Notes

National pipe taper

NPT

Male

Female NPT, NPTF
thread

MPT is male NPT, FPT is female NPT,

Female NPSM, NPSH
washer
Female
Male NPT, NPTF
thread

National pipe tapered fuel

NPTF

Male

Female NPTF, NPT
thread

NPTF threads are known as dryseal threads,

Female NPSH, NPSM
washer
Female
Male NPTF, NPT
thread

National hose/National standard thread

NH/NST

Male
Female NH/NST
Gasket in female coupling

NH and NST thread are the same. Most common thread type used by U.S. fire departments

Female
Male NH/NST
Square face on male coupling

National pipe straight mechanical

NPSM

Male
Female NPSM, NPSH

Mechanical or washer

Female
Male NPSM, NPT, NPTF

National pipe straight hose

NPSH

Male
Female NPSH

washer

Female
Male NPSH, NPSM, NPT, NPTF

British standard pipe taper

BSPT

Male

Female BSPT
thread

BSPT threads are known as R threads,

Female BSPP
washer
Female
Male BSPT
thread

British standard pipe parallel

BSPP

Male
Female BSPP
washer

BSPP threads are known as G threads,

Female
Male BSPP, BSPT
washer

Garden hose thread

GHT

Male
Female GHT
washer

Thread is same for all size hoses,

Female
Male GHT
washer

Metric parallel

M

Male
Female Metric parallel
washer
Female
Male metric parallel, male metric tapered
thread

Metric tapered

-

Male

Female metric tapered, MJ
thread
Female metric parallel
washer
Female
Male metric tapered
thread

Metric threads for high stress

MJ

Male
MJ female
washer
Female
MJ male, M male
washer

Unified Thread Standard

UTS

Male
Female UTS

washer
FAQs
Is G thread compatible with NPT?
G thread, or British Standard Pipe Parallel thread, is incompatible with National Pipe Taper (NPT) thread. If necessary, use a thread adapter to join these two thread types.
What is fire hose thread compatible with?
Fire hoses around the world have many different thread standards. If necessary, look up what thread types are compatible with fire hoses in the local region.
Explore Tameson's selection of thread cutting tools