Thread sealant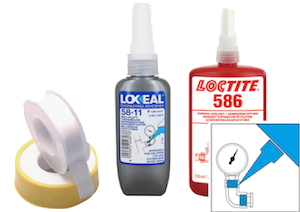 Figure 1: Thread sealants
A thread sealant prevents leakage of fluids in a threaded pipe connection. The sealant works by filling the space between the male and female threaded connections. Furthermore, they also function as a lubricant as the threads are forced together. The two main types of thread sealants are liquid and tape (Figure 1). Read our sealing and adhesives overview article for all different types of sealants and adhesive products.
Thread Sealant Online Selection
Table of Contents
Liquid thread sealant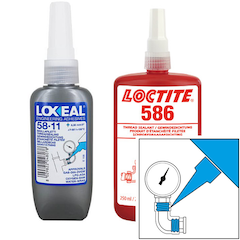 Figure 2: Liquid thread sealant
Liquid sealants are not solvent-based and take time to cure. Therefore, it does not crack or shrink, which creates a tight air and water-proof seal. Most liquid thread sealants are PTFE based, which also aid in the sealing process. It is easy to apply and can be used with a wide range of materials. It is resistant to high temperatures, high pressure, vibration, and chemicals. Figure 2 is an example of a liquid thread sealant.
Liquid Thread Sealant Online Selection
Liquid thread sealant selection flow chart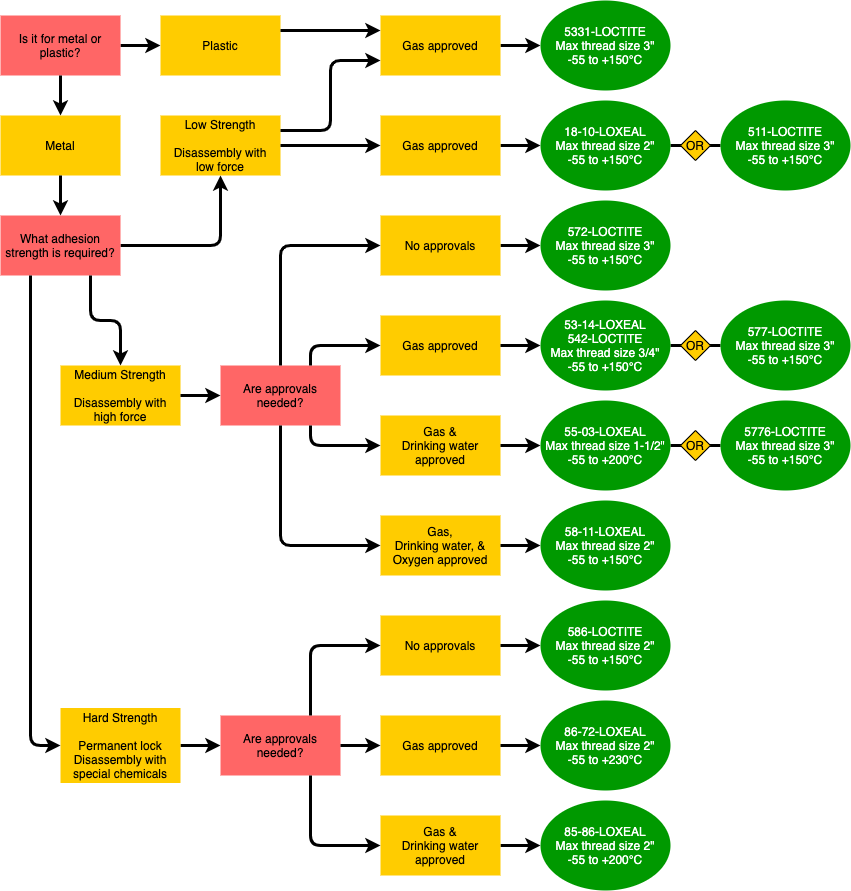 Liquid Thread Sealant Online Selection
PTFE sealing tape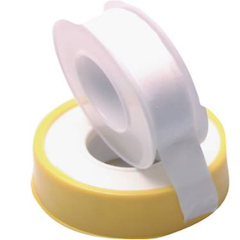 Figure 3: PTFE sealing tape
PTFE sealing tape, also known as Teflon tape or Plumbers' tape, is mostly used as a plumbing thread sealant for water pipes and fittings. It is a white, non-sticking tape used during the assembly of threaded parts. It is wrapped around the male thread to a specific thickness before threading it with the female counterpart. This tape acts as a filler and makes it easier to tighten the thread connection. It is prone to tear and may enter the system and clog the system. So, care should be taken during installation. Figure 3 is an example of PTFE sealing tape.
Sealant properties
Thread sealants exhibit the following properties:
Adhesion: The sealant must adhere to the material it is being used with to achieve proper sealing.
Chemical compatibility: The sealant, material of the pipe, and media should have chemical compatibility for proper grip, no contamination, and to prevent the risk of failure.
Durability: The service life of the sealant can vary depending upon the application including factors like temperature, pressure, vibration, media, etc.
Consistency: The sealant must have material or fluid consistency to allow it to self-level on the thread.
VOC content: It is important to understand VOC (volatile organic compounds) level in the sealant. Especially sealants with solvents, as they can have higher VOC levels and may produce irritants and toxins which should be avoided.
Selection guide
The following criteria can be considered before selecting the thread sealant for your application.
Temperature: Liquid sealant can be used as a high-temperature thread sealant due to its excellent temperature withstanding property. A standard quality PTFE tape can perform on the temperature range of -200°C to + 260°C. However, PTFE tape may start decaying after + 260°C.
Ease of application: PTFE tape sealant has the easiest installation.
Pressure: Liquid thread sealant can be used as a high-pressure thread sealant as it provides better vibration resistance than PTFE tape.
Wear and tear: Liquid thread sealant has a comparatively longer curing period, but it doesn't crack or shrink. PTFE tape is prone to tear during installation and can enter the system and clog it.
Curing time: For applications requiring quick assembly and usage, PTFE tape should be used. Liquid thread sealant can take up to 24 hours to fully cure, making it not applicable for immediate use.
Approvals: Thread sealants come with different approvals for use with gases, potable water, medical and food grade application. It is essential to ensure the sealant has the necessary approval required for your application. Most common approvals are DVGW for gas application, WRAS for water application, BAM approval for use with oxygen and NFS approval for drinking water
Media: Liquid sealant is the most commonly used hydraulic thread sealant. DVGW approved PTFE tape or liquid sealant can also be used as a gas pipe thread sealant. However, it is important to note there can be temperature and pressure limits of such approvals.
Cost: PTFE tape is the most economical option. However, liquid thread sealant is the most cost-effective given the wide range of materials, temperatures, and pressures it is suitable for.
How to use thread sealant?
There are several steps involved in using thread sealant for proper connection.
Decide thread sealant type: Choose between liquid or tape thread sealant and ensure it has the right properties and approvals for your application.
Clean and degrease the threads: It is important to clean and degrease the threads to ensure that the thread sealant properly adheres to the material and creates a seal.
Apply the thread sealant:

Tape: Wrap the tape around the male thread in a clockwise direction. During wrapping, the tape should take shape of the thread. Do not cover the end of the tread with the tape to prevent the tape from getting into the system. Ensure there is enough tape to fill the gap between threads, but excessive tape will make it more prone to tear and not make a full threaded connection. Don't unscrew the connection after it is made.
Liquid: Apply the sealant with a brush to the male threads. Ensure there is enough liquid sealant to fill the gap between the threads, but excessive sealant will be wasted and may exit the threads. Don't unscrew the connection after it is made.

Check for leakage.
How to remove thread sealant?
If the threaded connection is undone, new thread sealant material should be used meaning the existing thread sealant needs to be removed. A solvent-based media can be applied to it and it will dissolve the sealant material. These steps can be followed:
Unscrew the threads to disconnect the parts.
Spray the solvent over the thread or submerge the parts in it.
Wipe the threads clean once the sealant has dissolved.
Rinse with water and let dry.