A Guide To Camlock Couplings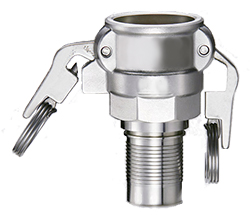 Figure 1: Camlock fitting
Camlock couplings facilitate the transfer of commodities between two hoses or pipes. They are also called cam and groove couplings. They are simple to connect and disconnect, requiring no tools. They can eliminate the need for some time-consuming traditional connections, such as prevalent on other couplings for hoses and pipes. Their versatility, combined with the fact that they are comparatively inexpensive, makes them the most popular couplings in the world.
Camlocks are used across industries, such as manufacturing, agriculture, oil, gas, chemical, pharmaceuticals, and military applications. These couplings as exceptionally versatile. They does not use threads, so there are no issues with it getting dirty or damaged. Camlock couplings are perfect for dirty environments and well suited for situations in which there is a requirement for frequent hose changes, such as petroleum and industrial chemical trucks. 
Table of contents
How do camlocks work?
The assembly of a Camlock coupling is made up of two pieces: a male plug and a female coupler. Figure 2 shows the components and process for connecting and disconnecting camlock couplings.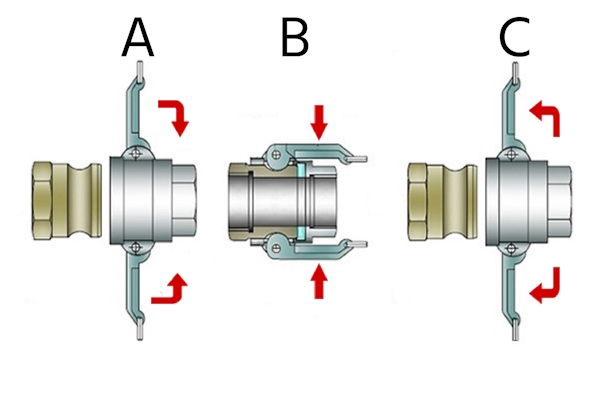 Figure 2: Connecting a Camlock coupling with a plug: connection (1), assembly lock (2), disconnection (3).
The handle of the coupling should be extended outward, and the correct male plug should be placed into the female coupler (Figure 2 labeled 1).
The two halves should be firmly locked together by closing both handles simultaneously (Figure 2 labeled 2). Closing both handles at the same time ensures that the grooved plug is consistently pushed down onto the seal, guaranteeing a leak-proof assembly for the safe transfer of liquids.
Ensure that the hose assembly is de-pressurized before reversing the process to disconnect the fitting (Figure 2 labeled 3).
Selection criteria for camlock couplings
To get the correct fitting for your application, one should consider various factors before making your purchase. Below is a list of the primary selection criteria for camlock couplings.
Size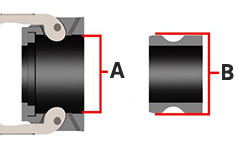 Figure 3: Camlock couplings and plugs have slightly different sizes, female couplers are therefore measured on the inside (A), while male plugs are measured on the outside (B).
Camlock sizes are determined by their nominal size, where the male and female couplings have slightly different sizes for coupling purposes. The male plug (Figure 3 labeled B) is measured on the outside, while the female coupler is measured on the inside (Figure 3 labeled A).
Table 1: Camlock coupling size chart
| | | |
| --- | --- | --- |
| Nominal Size [inch] | A (mm/inch) | B (mm/inch) |
| 3/4 | 32.4/ 1.28 | 32.1/ 1.26 |
| 1 | 37.3/ 1.47 | 36.7/ 1.44 |
| 1 1/4 | 46.0/ 1.81 | 45.5/ 1.79 |
| 1 1/2 | 54.0/ 2.13 | 53.4/ 2.10 |
| 2 | 63.8/ 2.51 | 63.0/ 2.48 |
| 3 | 92.2/ 3.63 | 91.5/ 3.60 |
| 4 | 120.3/ 4.74 | 119.5/ 4.70 |
Temperature
The temperature specifications of the coupling are determined by the material chosen. For example, 70°C (158°F) is the maximum temperature that polypropylene can handle, at which pressures must be reduced by 40%. When stainless steel is used, the operating temperature ranges from -150°F to +500°F (-101°C to +260°C). Due to these differences, it pays to know the exact details and working temperatures of your application. Keep in mind that the minimum and maximum operating temperature depend on a wide variety of factors besides the material the camlock is made of. These include, but are not limited to the operating pressure, media used, outside factors like weather, etc.
Material
Table 2 illustrates the advantages and disadvantages of each material and how we can use it for various applications.
Table 2: Camlock coupling materials
Item
Characteristic
Advantage
Disadvantage
Application
Stainless Steel

Corrosion-resistant
Compatible with various media
Long-term durability

Clean inner wall
Thermodynamic resistance
High-strength

Acids, alkali, and highly corrosive areas

PP

Low density
Works for Acid, alkali, and organic solutions
Chemically stable
Anti-aging

Leak-proof
lightweight
low price
Easy operation

Low strength
Easy to deform

Acidic and alkaline environments
Transmission of liquids in the chemical industry
Agricultural irrigation applications

Nylon

Good heat resistance
Higher density than PP
Resistant to changing humidity

Leak-proof
Lightweight
Cost effective
Easy to work with

Low strength
Easy to deform

Acidic and alkaline environments
Transmission of liquids in the chemical industry
Agricultural irrigation applications

Brass

Electrical conductivity
Seawater resistant

Salty water and any media except for acid and alkali
Marine applications
deep well operations

Aluminum Alloy

Low density, high intensity
good plasticity
electrical and thermal conductivity

relative to stainless steel, corrosion resistance is poor
susceptible to mildew and oxidation
Coatings
There are Camlock couplings that are specially coated in order to protect them from extremely aggressive chemical agents. This is because some of the standard materials, like stainless steel, cannot withstand those situations. For example:
ECTFE (ethylene chlorotrifluoroethylene): Couplers coated in ECTFE demonstrate excellent electrical insulation, fire resistance, are corrosion resistant, and can resist temperatures up to 150°C. These couplings have been designed to resist highly concentrated and aggressive chemicals.
PFA (Perfluoroalkoxy alkanes): PFAs are particularly well suited to use in food and pharmaceutical industries because of their high temperature resistance.
PTFE (Polytetrafluoroethylene/ Teflon): These coatings can withstand temperatures up to 260°C and are as effective as PFA coated couplings for food-grade applications.
PVDF (Polyvinylidene difluoride): The coatings are wear-resistant and are also suitable for food industry applications. They are resistant to highly concentrated and aggressive chemicals and have the advantage of high temperature resistance up to 260°C.
To learn more about the chemical properties of various materials, read our article on the chemical resistance of materials.
Maximum operating pressure
For the maximum operating pressure ratings for Camlock, see the below table. The pressure ratings is the pressure at ambient temperature.
Table 3: Camlock pressure rating characteristics
| | | | | | | | | | | | |
| --- | --- | --- | --- | --- | --- | --- | --- | --- | --- | --- | --- |
| Nominal couplings size/ material | 1/2" | 3/4" | 1" | 1 1/4" | 1 1/2" | 2" | 2 1/2" | 3" | 4" | 5" – 6" | 8" |
| Aluminum PSI | 150 | 250 | 250 | 250 | 250 | 250 | 150 | 125 | 100 | 75 | 150 |
| Aluminum Bar | 10.34 | 17.23 | 17.23 | 17.23 | 17.23 | 17.23 | 10.34 | 8.61 | 6.89 | 5.17 | 10.34 |
| SS 316 PSI | 150 | 250 | 250 | 250 | 250 | 250 | 225 | 200 | 100 | 75 | - |
| SS 316 Bar | 10.34 | 17.23 | 17.23 | 17.23 | 17.23 | 17.23 | 15.51 | 13.78 | 6.89 | 5.17 | - |
| Brass PSI | 250 | 250 | 250 | 250 | 250 | 250 | 150 | 125 | 100 | 75 | 50 |
| Brass Bar | 17.23 | 17.23 | 17.23 | 17.23 | 17.23 | 17.23 | 10.34 | 8.61 | 6.89 | 5.17 | 3.44 |
| PP PSI | 75 | 100 | 100 | 100 | 100 | 100 | - | 50 | 50 | - | - |
| PP Bar | 5.17 | 6.89 | 6.89 | 6.89 | 6.89 | 6.89 | - | 3.44 | 3.44 | - | - |
| Nylon PSI | - | 100 | 100 | 100 | 100 | 100 | - | 50 | 50 | - | - |
| Nylon Bar | - | 6.89 | 6.89 | 6.89 | 6.89 | 6.89 | - | 3.44 | 3.44 | - | - |
Camlock standards for manufacturing
A-A-59326D (previously Mil-C-27487)
Mil-C-27487, now superseded by A-A-59326D, was the US military specification for Camlock couplings. Although the original standard was replaced with a new one, the US still guaranteed the interchangeability of couplings of the same design. Mil-C-27487 specifies the casting processes, materials, dimensions, tolerances, pressure ratings, and inspection procedures.
EN 14420-7
EN 14420-7, the European standard developed to replace the American Military standard, was ratified by the European Committee For Standardization, CEN, in September 2004. Cam locking couplings are manufactured worldwide according to the American military specification. However, this American standard fixes only the coupling side, but not the connection side. Other parts like levers, bolts, rings, and seals are not standardized. EN 14420-7 seeks to correct this.
Interchangeability
Except for 12", 5" and 8", Camlock couplings are interchangeable between manufacturers. Since there are two types of Camlock couplings on the market today, the A-A-59326A military specification does not apply to 5" and 8" cam & groove couplings.
There are some differences between Camlock couplings produced to EN 14420-7 and those produced to the original MIL-C-27487 standard in terms of hose tail design, thread, and part number. A flat thread seal has been added to the female threaded parts, and a smooth hose shank in accordance with EN 14420-7/DIN 2828 has been added for use with safety clamps that comply with EN 14420-3/DIN 2817.
Camlock manufacturing quality
It is important to know your supplier of the Camlock coupling. Even if they are made to the same standard, there might be slight differences in the manufacturing method making the couplings from one manufacturer not suitable from another. This is typically only an issue if dealing with cheap Camlock couplings. Ensure the couplings are of high-quality and from a reputable manufacturer. Ideally, the plug and coupling side of the connector are from the same manufacturer.
Camlock coupling types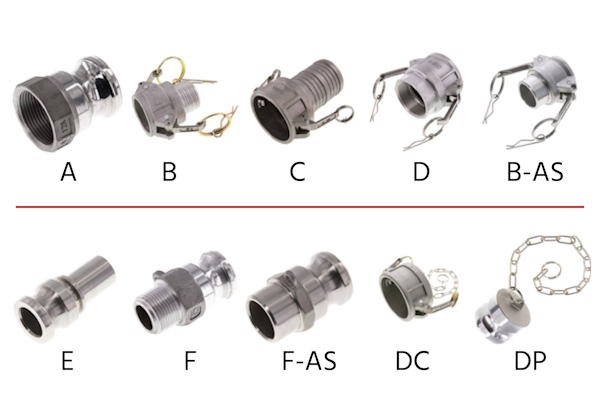 Figure 4: The different types of Camlock couplings
Camlock couplings are identified by their type designations, which are listed below while the image shows a visual reference for the various coupling types.
Type A:Plug with Female Thread
Type B: Coupler with Male Thread
Type B-AS: Coupler with weld end
Type C: Coupler with Hose Tail
Type D: Coupler with Female Thread
Type E: Plug with Hose Tail
Type F: Plug with Male Thread
Type F-AS: plugs with weld connection
Type DC: Dust Cap for plugs
Type DP: Dust Plug for Couplers
Type DA: Female coupler with male adapter
Camlock coupling accessories
Gaskets & Seals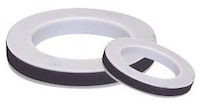 Figure 5: A Teflon (PTFE)/NBR compound seal for a camlock coupling.
All metal Camlocks and polypropylene Camlocks are supplied & fitted with either a NBR, EPDM, or a PTFE (teflon) seal. Different sealing compounds are available depending on the media being conveyed through the couplings. There are replacement seals available made of the following materials:
FKM (FPM)
CSM (Hypalon)
Teflon (PTFE)/NBR compound
Teflon (PTFE)/FPM compound
For applications requiring more exotic sealing solutions, chemical encapsulated seals are available made of silicone or FEP. View our chemical resistance table for more information.
R clips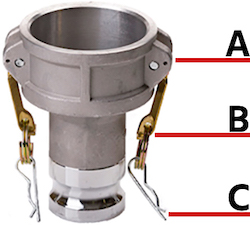 Figure 6: Camlock couplings with safety levers are sometimes fitted with an additional r-clip for safety. The clip (A) can be fitted into the hole in the coupling (C), when the levers (B) have been fastened and the coupling is connected.
The R Clips are designed to be used with Camlock couplings in order to prevent accidental disconnection of the coupling assembly. As seen in Figure 4, the R clip (Figure 6 labeled A) can be pushed through a hole (Figure 6 labeled C) behind the handle (Figure 6 labeled B) to prevent the handle from becoming loose once the plug is connected to the coupling. R Clips are only used as an additional safety feature to prevent the two halves of a Camlock from catching on something or working their way loose.
Lock system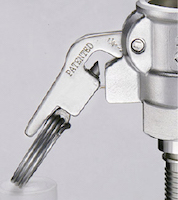 Figure 7: Camlock locking system
An alternate design of Camlock couplings with automatic locking arms has been devised to prevent unintentional disconnection, which would result in spillage. Especially if the medium contains highly flammable or toxic liquid chemicals, this is of utmost importance. The Camlock fitting shown in Figure 5 is modified to have a built-in automatic locking system.
In this way it is similar to a standard Camlock however with the added security of locking securely into place and preventing accidental opening when opened.
Special camlocks
Special Camlocks are available for non-standard applications. This section provides an overview of the less common Camlock couplings and where they are used.
Undercut DIN 2828: In general, the Undercut DIN 2828 is used where the male thread on a hose is parallel and offers an undercut at the base of the thread as well as a gasket for the male thread to sit on.
Flanged: Flanged ends are available with Camlock couplings so that the quick release system can be introduced without the need to make major alterations to the pipework.
Spiral Tail Camlocks: Spiral tail and helical tail couplings can be used in composite hoses to match the internal helix of the hose. A swagged ferrule secures the couplings to the composite hose.
Camlock Plug & Caps: Dust Plugs (Type DP- Dust Plug for Couplers) and Dust Caps (Type DC- Dust Cap for plugs) can be used with types B, C and D to seal the end of the connection.
Smooth Tail Coupling EN14420-7 (DIN2828): The smooth tail of the part C and part E couplings have an annular collar, making the BS EN14420-3 clamp, which has a lip, engage behind the collar. By doing this, there is less risk of a hose blowoff.
Safety Bumps For Camlock couplings: Safety Bumps are mechanisms designed to prolong the life of the Camlock and keep the hose assembly clean when not in use and help prevent spills.
Safety Locks for Camlock couplings: Camlock arms will not inadvertently open if safety locks are used. They are an alternative to more expensive locking handles, and they are easy to install and easy to remove, too.
Camlock coupling chain: These chains can be used to attach a DP dust plug or DC type dust cap to a type B, C, and D coupling or plug.
Camlock Safety & preventative maintenance
You should have a routine maintenance schedule that allows you to inspect your Camlock couplings frequently. It is important to regularly check and replace worn parts on Camlock couplings since moving parts are subject to wear and tear. By replacing worn parts, you extend the life of your products and ensure health & safety standards are met.