Valve Housing Material - Selecting Between Stainless Steel 304 and 316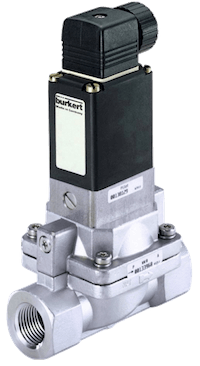 Figure 1: Stainless steel valve
When selecting a valve's housing material, it is important to know the differences between stainless steel 304 (EN steel number 1.4301) and stainless steel 316 (EN steel number 1.4401, 1.4436). Selecting between the two typically depends on an application's corrosion resistance requirements. This article discusses the nature of each type of steel, how to choose between them, and how to determine which to use for a stainless steel valve.
Table of contents
View our online selection of stainless steel valves!
What is stainless steel?
Steel, in general, consists of iron and carbon. Stainless steel, on the other hand, encompasses various steel blends containing at least 10.5% chromium by weight. These blends are primarily made to withstand corrosion or oxidation, which occurs when metals react with oxygen (in air or water) and form rust. Stainless steels are 100% recyclable.
When chromium (Cr), a durable metal, comes into contact with water or air, it undergoes a chemical reaction with oxygen. In stainless steel, chromium oxide forms a thin, stable film on the surface (Figure 2 labeled A), protecting the metal from corrosion by limiting oxygen exposure. This corrosion resistance process is known as passivation. The protective film can self-repair (Figure 2 labeled C) if scratched or disturbed (Figure 2 labeled B).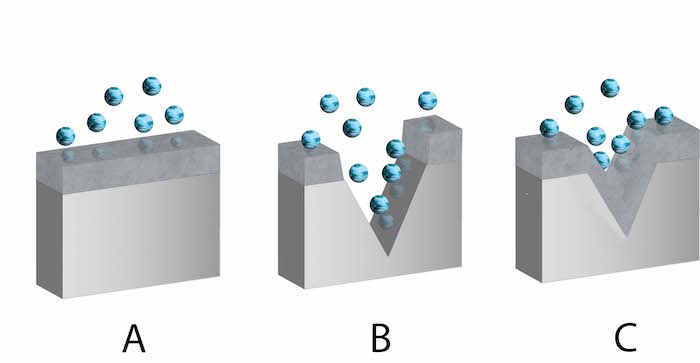 Figure 2: Stainless steel with a chromium oxide surface film. Chromium oxide intact (A), chromium oxide damaged (B), and chromium oxide self-reformed (C). The blue spheres are oxygen.
Types of stainless steel
Varying the ratios of different elements has led to many kinds of stainless steel. Beyond chromium, other alloying elements are added to stainless steel, for example, molybdenum, nickel, and titanium. These elements enhance stainless steel's formability, strength, and chemical resistance.
Austenitic stainless steel is the most widely produced family of stainless steel. It is created by alloying nickel, which gives it excellent formability and weldability. Stainless steels 304 and 316 are members of this family.
Stainless steel 304 vs 316
When selecting a specific grade of stainless steel for a given application, the first and foremost criterion is corrosion resistance. Other mechanical or physical properties may also need to be considered to meet service performance.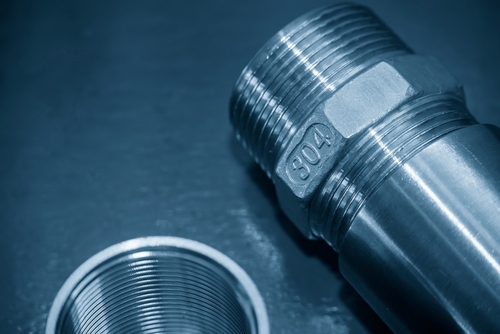 Figure 3: A stainless steel 304 pipe end stamped to indicate its steel grade
Corrosion resistance
Stainless steel 304 (EN steel number 1.4301) and stainless steel 316 (EN steel number 1.4401, 1.4436) have very similar physical and mechanical properties, but their primary difference remains in their resistance to corrosion in different environments:
304 Stainless Steel

Contains 18% chromium and 8% nickel
Cost-effective choice if high concentrations of chloride are not present.

316 Stainless Steel

Contains 16% chromium, 10% nickel, and an additional 2% molybdenum
The added molybdenum provides greater corrosion resistance to acids and localized pitting attack by chloride solutions such as seawater and de-icing salts.
The corrosion resistance of stainless steel in acidic or basic solutions depends on the kind and concentration of acid or base and the solution temperature.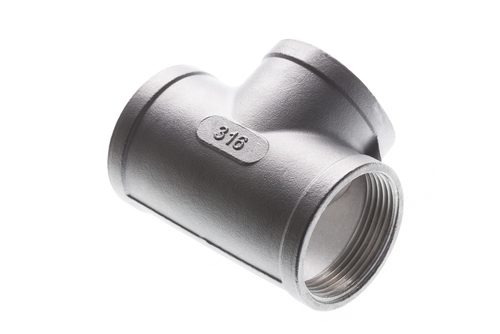 Figure 4: A stainless steel 316 tee pipe fitting stamped to indicate its steel grade
Corrosion resistance to acids
Stainless steel type
Resistance to acids
Stainless steel 304

Good resistance to moderately aggressive organic acids, such as acetic acid and formic acid
Prone to corrosion (e.g., pitting and crevice corrosion) by strong acids such as sulfuric or hydrochloric acids
Resistant to most concentrations of phosphoric acid and nitric acid but may have stress corrosion cracking in hot concentrated solutions

Stainless steel 316

Better acid resistance than stainless steel 304, especially if chloride ions are in the system
Better resistance to sulfuric acid than stainless steel 304. Can experience corrosion at concentrations above 20% or temperatures above 50 °C (122 °F)
Prone to corrosion by hydrochloric acids
Better resistance to phosphoric, acetic, formic, and tartaric acid solutions at a wide range of concentrations and temperatures
Table 1: Stainless steel 304 vs 316 resistance to acids
Corrosion resistance to bases
Stainless steel type
Resistance to bases
Stainless steel 304

Good resistance to alkalis
Can withstand exposure to weak bases, such as sodium hydroxide or potassium hydroxide
May experience localized corrosion in the presence of strong bases at high temperatures

Stainless steel 316

Higher resistance to bases than stainless steel 304
Can maintain corrosion resistance to strong bases, such as sodium and potassium hydroxide, even at elevated temperatures
Table 2: Stainless steel 304 vs 316 resistance to bases
Other factors
As mentioned in the above section about corrosion resistance, most of the other properties of stainless steel 304 and 316 are similar. Understanding the following properties can help select the right stainless steel, but does not need a lot of focus unless the application has very precise demands:
Mechanical properties: 304 and 316 have similar tensile strength, yield strength, and elongation. 316 has slightly higher strength and toughness due to molybdenum.
Cost: 304 is less expensive than 316 due to the absence of molybdenum. The lower cost can be significant for large materials or projects.
Heat resistance: 316 has a slightly higher heat resistance than 304.
Fabrication and formability: 304 is slightly easier to work with than 316 when fabricating, welding, and forming.
Weight: 316 is slightly denser than 304 due to molybdenum.
Stainless steel valves
Stainless steel valves are widely used primarily due to their corrosion resistance. With everything else equal, 304 and 316 valves have a negligible difference in temperature and pressure rating. Look for a stamped number on the valve's body to determine if it's 304 or 316, similar to the objects in Figures 3 and 4. The following table describes factors to consider when selecting between stainless steel 304 and stainless steel 316 valves.
| | | |
| --- | --- | --- |
| Property | Stainless steel 304 valve | Stainless steel 316 valve |
| Corrosion resistance | Good resistance but inferior to 316 | Superior to 316 due to the addition of molybdenum |
| Applications | Food processing, water treatment, general plumbing and other applications that require moderate corrosion resistance | Marine environments, chemical processing, pharmaceutical industries, and other applications with high corrosion resistance demands |
| Cost | Less expensive | More expensive |
Table 3: Selecting between stainless steel 304 and stainless steel 316 valves
FAQs
How do I tell the difference between stainless steel 304 and stainless steel 316?
Unless stamped, the only way to tell the difference between these two types of stainless steel is to test them chemically. There are no visual markers or mechanical properties that make them easy to differentiate.
How do I choose between stainless steel 304 and stainless steel 316?
Choosing between these two stainless steel types typically comes down to understanding how much corrosion resistance is necessary. Stainless steel 316 has superior corrosion resistance but is also more expensive.
View our online selection of stainless steel valves!