Types and Uses of Wood Chisels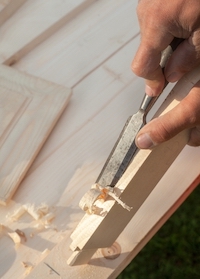 Figure 1: A wood chisel shaving pieces off a wood block.
Wood chisels are used to cut and shape wood. They have been used for thousands of years, with different types being developed for specific applications. This article examines a select number of chisels for woodworking and specialty chisels.
Table of contents
What is a chisel?
As seen in Figure 1, a chisel is a tool with a long, flat blade. It can cut through wood, metal, and masonry. Some chisels are suitable for hitting with a wooden chisel mallet to make deep cuts, whereas others only need manual pressure to make fine cuts. To learn more about chisels, read our chisel overview article.
How wood carving chisels work?
A wood chisel operates like a wedge. When a woodworker drives the edge of the wood chisel into a piece of wood, the tool's beveled edge splits apart the fibers of the wood. The result is a chip of wood coming off the wood block. This operation is why having a sharp chisel is essential for wood chiseling. The sharper the chisel is, the less damage its edge will do to the wood surrounding the cut. Learn more about how to sharpen a chisel by reading our article about chisel sharpening.
Types of wood chisels
Five wood carving chisels can handle most woodworking needs: bench chisel, firmer chisel, mortise chisel, paring chisel, and construction chisel. The following table describes each chisel's specifications and distinctive features.
Chisel type
Specifications
Distinctive feature(s)

Bench chisel

25° beveled edge on the front of the blade

The most common chisel found on a workbench, thus its name. The beveled edge is suitable for cutting dovetail and mortise-and-tenon joints.

Thin 90° edge on the bottom
Wider 90° edge on the bottom (alternative bottom edge)
Firmer chisel
25° bevel and 90° edge
Good for paring (trimming away outer edges) and chopping.

Mortise chisel

30° bevel and 90° edge

Leading edge is stronger. Chops mortises (Figure 2 labeled B), which are holes that receive tenons (Figure 2 labeled A).

Harder steel: A2 or PM-V11

Paring chisel

Primary bevel has a low level (e.g., 17°)

Great for paring end grains and softwoods. It has a long handle for better control.

Harder steel: Cr-Mn steel helps it keep its sharp edge
Construction chisel
Similar to a bench chisel but has a rubber handle instead of a wood handle
Construction chisels can take a lot of abuse so they are suitable for demolition projects.
Table 1: Wood chisel tool types
Figure 2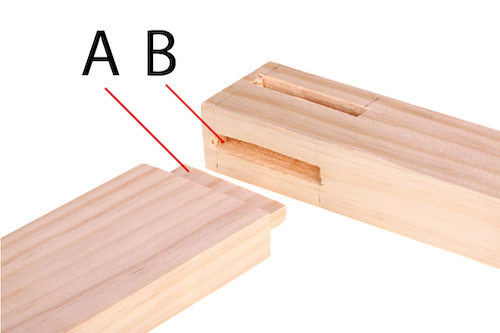 Figure 2: A tenon (A) fits into a mortise (B).
Specialty wood chisels
Beyond the list of chisels above, there are other chisels that make certain woodworking tasks easier. These are butt chisels, dovetail chisels, corner chisels, framing chisels, and slick chisels.
Butt chisel: The original purpose of a butt chisel is to carve mortises for the installation of butt hinges. These chisels typically have wider blades than bench chisels. Due to their short length, many woodworkers prefer using butt chisels to chisel wood for other woodworking jobs.
Dovetail chisel: Dovetail chisels have a triangular cross-section that allows the blade to fit nicely into a dovetail. These chisels can initially cut dovetails but are better at refining dovetails after cut by a bench chisel.
Corner chisel: Corner chisels have two cutting blades at 90° angles. These tools are useful for refining corners of a mortise.
Framing chisel: A framing chisel is similar to a firmer chisel but is wider and longer. It's suitable for cutting out mortises and rough carpentry work.
Slick chisel: A slick chisel is like a long paring chisel. Its ideal use is to take long, thin slices off a wood block.
Wood chisel handles
There are two primary handles for wood chisels: tang and socket. A tang handle chisel has a pointed end opposite the chisel blade that fits into the handle (Figure 3 labeled A). A socket handle chisel has a socket on the handle that fits into the back of the blade (Figure 3 labeled B).
The primary difference between the two types of handles is that a woodworker does not hit a tang handle chisel with a mallet, whereas the woodworker hits a socket handle chisel with a mallet. Extensive hitting of a tang handle chisel will cause the handle to split and fall off the tang. However, when a socket handle chisel is hit, the socket drives deeper into the back of the blade, tightening the connection.
Figure 3

Figure 3: The two common types of chisel handles: tang (A) and socket (B).
Japanese wood chisels
Japanese chisels for wood are renowned for their durability and edge retention. Among Japanese wood chisels, there is a counterpart for each of the chisels discussed above, commonly referred to as Western chisels. The primary difference between Japanese and Western chisels is the construction process. While Western chisels are made of two parts, the blade and the handle, Japanese chisels are typically made of four parts, the blade (Figure 4 labeled A), a tapered ferrule (Figure 4 labeled B), the handle (Figure 4 labeled C), and a steel hoop (Figure 4 labeled D). If a Japanese wood chisel does not have a steel hoop on the handle, it is not meant for striking with a wood chisel hammer.
The next significant difference between Japanese and Western wood chisels is steel. Typically, Western wood chisels are made of a single steel, whereas Japanese wood chisels are made of a combination of two steels at a minimum. The bottom layer of steel that makes the edge is either White Paper steel or Blue Paper steel. The top layer is typically wrought iron.
Figure 4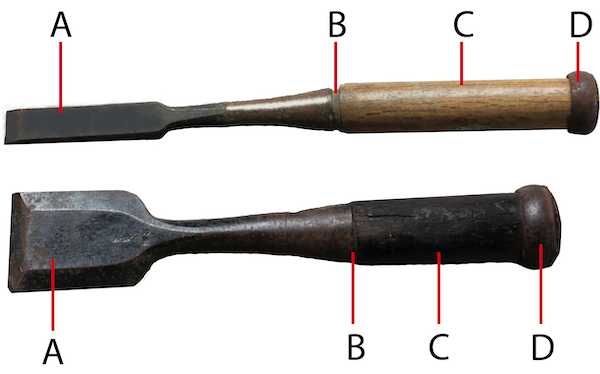 Figure 4: Antique Japanese wood chisels with the same components that modern Japanese wood chisels have: a blade (A), a tapered ferrule (B), a handle (C), and a steel hoop (D).
Cheap vs expensive chisels
If sharp, inexpensive and expensive chisels both work well for woodworking. However, expensive chisels have higher quality steel blades, which can keep a sharp edge for much longer. After a few minutes of work with a cheap chisel, it is likely time to re-sharpen it.
Having a cheap wood chisel set on hand is a good option for work that is not fine woodworking. For example, scraping glue or paint off the floor, disassembling a joint, or pulling apart a pallet. A professional wood chisel set is wasted on these tasks.
Wood chisel set
Wood chisels are often bought in a set, since a wood chisel set contains chisels of different sizes or different types of chisels. Some wood chisel sets come with a sharpening kit as well. Apart from the convenience of having multiple sizes or types of chisels readily available, chisel sets also often times come in a dedicated storage box, bag, holder, or container. This makes for easy organization and transportation of chisels.
FAQs
Is it necessary to purchase expensive chisels?
If starting off with woodworking, opt for medium-priced chisels. Cheap chisels are ideal forscraping up paint and glue, or pulling apart joints, but not for accurate woodworking chiseling use.
What are the most common chisels?
Bench, mortise, and paring chisels are suitable for finishing the majority of woodworking tasks.
How to use a wood chisel?
A wood chisel operates like a wedge. Drive the edge of the wood chisel into the wood, typically using a chisel mallet, and it will split apart the fibers of the wood.
How to chisel wood?
Secure the piece of wood. Mark the spots. Place the blade of the chisel onto the surface of the piece. Use the chisel like a wedge to remove excess wood while keeping the blade at an angle.