Safety Gloves Overview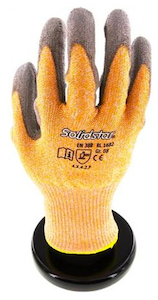 Figure 1: Reusable safety glove
Safety gloves are an essential part of on-the-job PPE, and they can protect you and your employees from chemical burns, abrasions, cuts, and many other injuries. Understanding the different types and uses of safety gloves can help you make good decisions when deciding which ones to use on the job.
Table of contents
View our online selection of safety gloves!
What are safety gloves?
Designed to protect a worker's hands from various hazards, safety work gloves may protect against chemical exposure, cuts, abrasions, burns, punctures, electrical risks, and other dangers on the job.
Why use safety gloves?
The human hand is a very complex instrument that can perform various tasks. If it suffers a severe injury, it may not function with adequate strength and precision to handle necessary tasks. In the worst-case scenario, a hand injury could leave a worker disabled for the rest of their life. There is a broad spectrum of potential dangers to the hand across different industries. For example, workers in manufacturing plants may need to guard against getting their hands crushed, cut, or punctured by heavy machinery. Employees at chemical plants must protect their hands against exposure to harmful chemicals, detergents, and other elements that could cause a severe allergic reaction. Wearing PPE safety gloves can act as a powerful defense against work-related hazards and prevent a worker from suffering a career-ending injury.
Reusable vs disposable safety gloves
There are two basic categories of safety gloves: reusable and disposable.
Reusable gloves: provide exceptional durability and strength for workers and offer strong resistance against chemical irritants. While reusable gloves often sacrifice sensitivity for increased durability, they are typically the best choice for jobs that require workers to handle dangerous chemicals or equipment, especially for long periods.
Disposable gloves: disposable gloves are usually thinner than their reusable counterparts and less durable. However, they may offer greater sensitivity in the performance of tasks and still provide a measure of protection against mild irritants. Many nitrile gloves fall into this category.
Safety glove materials
Common materials used to make industrial safety gloves include:
Disposable
Vinyl: this type of glove is suitable for simple protection against material contamination handled by the user.
Polyethylene: is a highly affordable material, and polyethylene gloves are often used in the food service industry since they provide enough durability to handle light, short-duration tasks.
Latex: this glove material is generally comfortable to wear, making latex a popular choice as a general-purpose safety glove.
Nitrile: nitrile safety gloves are often used for typical chemical applications and can stand up to moderate to heavy use without sacrificing much in the way of sensitivity and dexterity.
Reusable
Knit: sourced from fiber and other synthetic materials. They are abrasion-resistant and protect from moderate heat and cold.
Leather: this material, obtained from the processing of animal skins and hides, is often used in the production of leather safety gloves designed to protect against rough objects, chips, sparks, and moderate heat.
Butyl rubber: this synthetic material protects against a wide variety of chemicals, including corrosive acids, strong bases, and ketones.
Aluminized: this type of glove material is especially suitable for use cases that involve heat since the inserted metal can act as a barrier against intense heat.
Different protection types and specifications
It's important to realize that different types of safety gloves offer different types of protection on the job. Some common types of protection provided by safety gloves include:
Protection against moderate heat or cold: leather and cotton gloves can provide a barrier against medium heat or cold that helps workers perform critical manual tasks with minimal discomfort.
Cut resistance: many people assume that leather gloves are naturally resistant to cuts. However, safety gloves engineered from synthetic fibers, such as Kevlar and Dyneema, provide up to 10 times the cut resistance of leather.
Thermal protection: Kevlar gloves also provide a high level of thermal protection for employees who have to deal with more extreme working conditions.
Abrasion resistance: Dyneema-engineered gloves are exceptionally resistant to abrasion, making them an excellent choice for specific manufacturing jobs.
Chemical resistance: chemical safety gloves made from different kinds of rubber (butyl, nitrile, neoprene, fluorocarbon) or plastic (PVC, polyethylene) are especially suitable for use cases that require resistance against harmful chemicals.
Grip: gloves that are hazard-resistant but have poor grasp may cause workplace injuries due to slippage. Many glove manufacturers modify their products using a sponge nitrile coating designed to enhance grip quality.
Cuff length protection: safety gloves with a longer cuff length are essential if workers need to ensure the security of their lower arms.
The type of glove that a worker should use mainly depends on the tasks being performed and the potential dangers. For instance, employees at a chemical laboratory will need to wear a different safety glove than workers on a construction site. It's important to identify significant hazards ahead of time and then determine which type of glove will provide the maximum safety for the workers on hand.
Learn more about personal protective equipment by reading our guide to safety goggles.
Safety glove standards
There are four significant standards throughout the world used to measure the cut resistance of safety gloves:
In addition to these four standards, there is a supplemental standard known as ANSI/ISEA 105. This standard provides a guideline for acceptable cut levels for protective glove manufacturers based in the United States. It functions on a scale of 0-5, with the following indicators:
0 = virtually no cut protection
1-2 = minimal cut protection
3-4 = medium-cut protection
5 = maximum cut protection (suitable for high-risk work areas)
Of course, protective glove manufacturers have to consider various other factors when designing and producing specific use cases. For instance, high-impact mechanic's gloves often include molded knuckles for maximum dexterity, and package-handler gloves feature silicone-dotted palms and fingers for exceptional grip.
Finally, the OSHA 1910 standard requires employers to supply their employees with appropriate hand protection (e.g., safety gloves) when their hands are exposed to hazards such as skin exposure to harmful substances, cuts, lacerations, burns, and so forth.
Applications for safety gloves
There are scores of practical applications for safety gloves across various industries. The following is just a small sampling of typical applications on the job:
Construction safety gloves are designed to prevent or minimize cuts and punctures from nails and wood splinters;
Welding gloves are designed to withstand intense heat;
Mechanic's gloves are designed to offer exceptional flexibility and sensitivity while guarding against sparks, cuts, and burns;
Chemical-resistant gloves make laboratory work safe for technicians.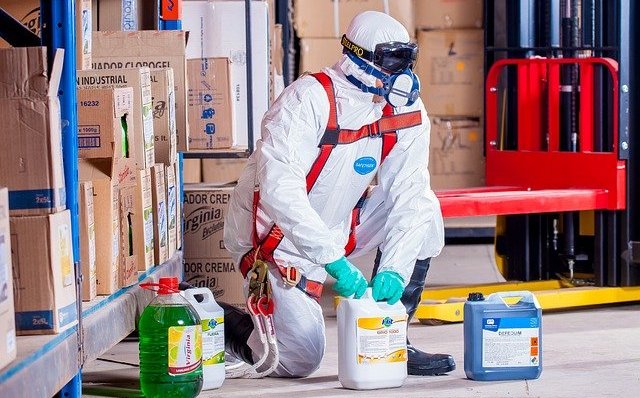 Figure 2: Safety gloves protect the user's hands and fingers from chemical exposure
FAQs
What are safety gloves for?
Safety gloves (also known as protective gloves or PPE gloves) protect the user's hands and fingers from hazards, ranging from irritation from chemical exposure to cuts and punctures from sharp objects.
How is glove thickness measured?
Glove thickness is typically measured in terms of mils, which is equal to 0.001 inches. A thicker glove, one with more mils, will provide a greater level of protection compared to a thinner glove.
What is a suitable thickness for nitrile gloves?
Nitrile gloves for industrial use are typically 6-8 mils thick, but can be as thick as 15 mils. However, thicker gloves may provide less dexterity and sensitivity.
Do nitrile gloves protect against diesel fuel?
Nitrile gloves can be used as diesel safety gloves, however, it depends on the type of nitrile and the concentration of fuel. It's best to check the manufacturer's specifications or consult an expert.
What type of gloves provide thermal protection?
Leather and other materials that are highly resistant to heat, flames, and sparks are used to make heat protection gloves. Gloves for cold protection are frequently lined with yarn, cotton, or fleece.
What gloves protect you from electrical sparks?
Rubber or insulated electrical safety gloves protect from electrical sparks. They are rated based on the voltage they can handle.
View our online selection of safety gloves!