Solenoid Valves for Oil Lubrication in Egg Transportation

Have you ever wondered how eggs are transported from the hen to the packaging? One common way is by using an egg transport system from Farmtec. They incorporate solenoid valves from JP Fluid Control, purchased from Tameson since 2016. Sven Sieverink, general manager of Farmtec, explains why Farmtec chose these specific valves.
Global delivery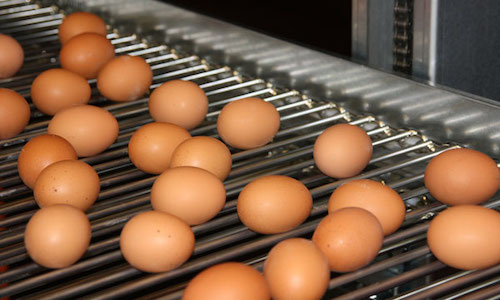 Farmtec is based in Heerde, Netherlands, and celebrated its 40th anniversary in 2019. The company specializes in designing, producing, and supplying professional egg collection and egg transport systems. These are supplied to poultry companies worldwide, from Brazil to Switzerland and from India to Germany. Sven Sieverink: "In total, some 80% of our installed equipment is located outside the Netherlands. We assemble our products in the Netherlands, and our local partners and specialists carry out the installation on site. Through possible height differences, bends, and moving parts, the eggs go from point A to B in one flow, whereby the objective is always to prevent hairline cracks or breakage. This is a bit of a puzzle, especially in existing buildings, but that makes it fun."
25,000 to 72,000 eggs per hour
The eggs are transported on a metal belt, which is welded and assembled in-house. Farmtec uses standard components that are customized for each unique situation, says Sven Sieverink: "Our systems can process 25,000 eggs up to 72,000 eggs per hour. Such quantities affect the design and installation dimensions. For example, a 90-degree bend of our 30 cm wide system is easier to fit than a 90-degree bend of 80 cm wide."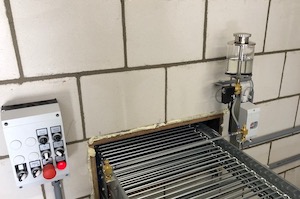 Part of the oil distributor
"The solenoid valves from JP Fluid Control that we order from Tameson are used for our oil distributor. We install such a distributor for each drive unit in our system. Because we want each transport to run as smoothly as possible, we use this to ensure that a wafer-thin layer of oil is applied to the plastic guides that the chains use. Of course, we use food-grade oil, which is safe and transparent. We are very satisfied with the Tameson solenoid valves that ensure the perfect oil distribution. In addition, the price/quality ratio is simply outstanding."
Pleased with the solenoid valves from JP Fluid Control
The valves of the JP Fluid Control brand function excellently, says Sven Sieverink: We never receive any complaints about them from our clients. Now, our systems can last for 15 to 20 years, so naturally, we also want very durable solenoid valves because they are in quite aggressive environments. In 2016 we started experimenting with our own oil lubrication system, and we needed solenoid valves for that. The ST-DA 1/4 brass FKM 0-13bar 24V DC from JP Fluid Control was a good quality valve for us at an excellent price. Since then, it has been our standard valve for all our systems.
Are you curious about the solution for your situation?
Our experts are happy to help you further. Please contact Tameson via support@tameson.com or +31 (0) 40 7505795.