ATEX Labeling
Working in hazardous areas where flammable gases, vapors, mists, or dusts are present requires specific safety measures. ATEX labeling is a technical identification system that informs users about the explosion protection features of equipment. This label helps ensure the safe selection and use of equipment in potentially explosive environments. All ATEX certified products need to have an ATEX label explaining the criteria that it meets. The downloadable sheet below explains the labeling structure with examples to clearly understand the ATEX labeling.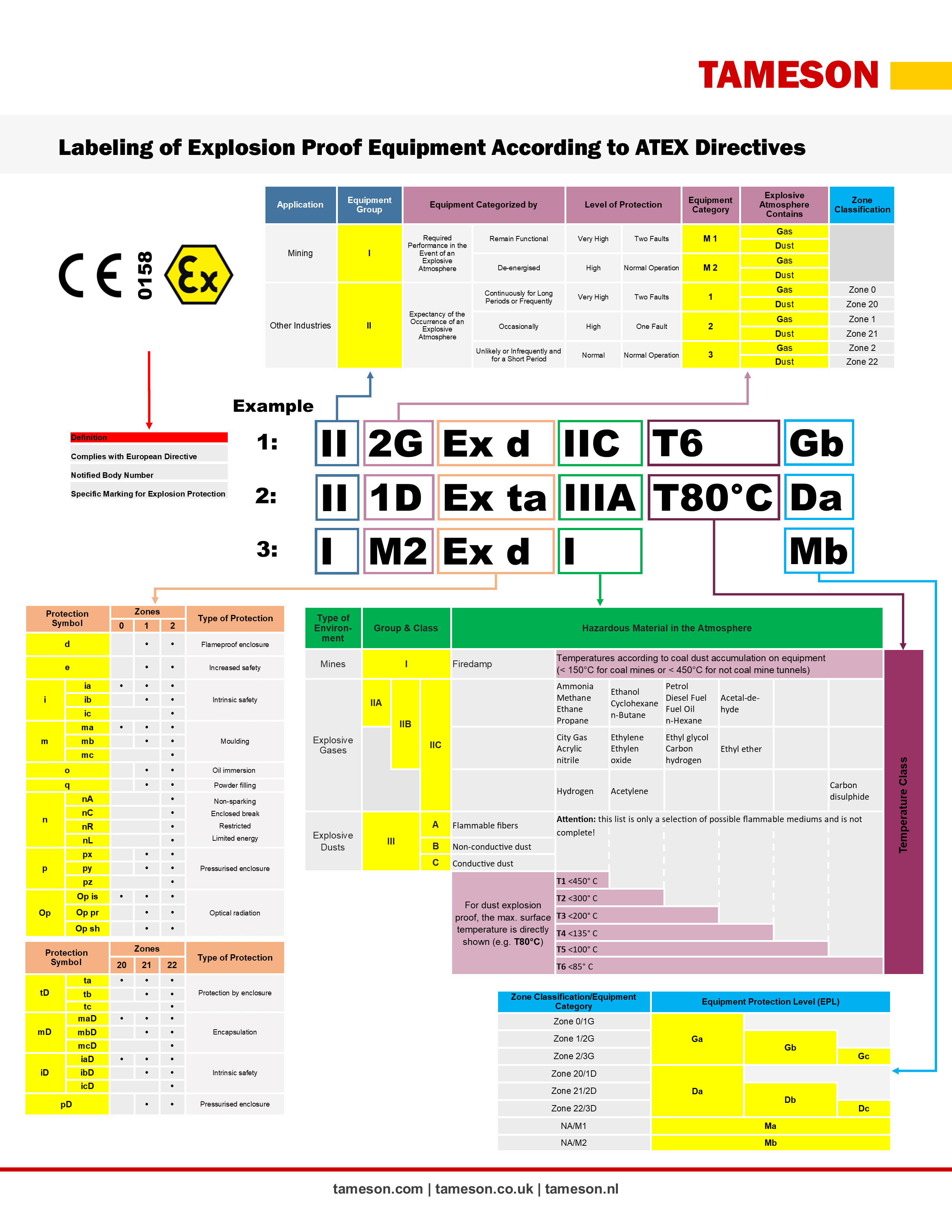 Understanding ATEX labels - Produced by  Tameson
Auto-ignition temperatures for gasses and dusts
The tables below are a non-exhaustive list of common gases and dusts with their temperature classes and auto-ignition temperatures.
Gas Group
Temperature Class
T1
T2
T3
T4
T6
I
Methane
 
 
 
 
IIA
Acetone
Ethanol
Diesel Fuel
Acetaldehyde
Ethyl Nitrite
Methane
Cyclohexane
Aircraft Fuel
Ethyl Ether
 
Ethane
Propanol 2
Fuel Oil
 
 
Benzene
N-Butyl Alcohol
N-Hexane
 
 
Methanol
N-Butane
Heptane
 
 
Toluene
 
Kerosene
 
 
Acetic Acid
 
Petrol
 
 
Ammonia
 
 
 
 
Propane
 
 
 
 
Methylene Chloride
 
 
 
 
Carbon Monoxide
 
 
 
 
IIB
Coal Gas
Ethylene
Ethylene Glycol
Ethyl Methyl Ether
 
City Gas
Ethylene Oxide
Hydrogen Sulphide
 
 
Acylic Nitrile
Propanol 1
Tetrahydofuran
 
 
 
Methyl Ethyl Ketone
 
 
 
 
 
Carbon Hydrogen
 
 
IIC
Hydrogen
Acetylene
 
 
Carbon Disulphide
Ignition Temperatures for Common Flammable Dusts and Fibers
Material
Ignition Temperature
Cloud
Layer
Coal Dust
380˚C
225˚C
Polythene
420˚C
(melts)
Methyl Cellulose
420˚C
320˚C
Starch
460˚C
435˚C
Flour
490˚C
340˚C
Sugar
490˚C
460˚C
Grain Dust
510˚C
300˚C
Phenolic Resin
530˚C
> 450˚C
Aluminum
590˚C
> 450˚C
PVC
700˚C
> 450˚C
Soot
810˚C
570˚C