Air Blow Gun – How They Work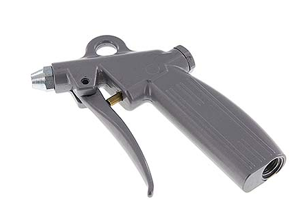 Figure 1: Air compressor blow gun
What is an air blow gun?
An air blow gun is a device used for applications requiring compressed air like removal of debris, non-contact drying and blowing. It consists of a nozzle that is attached to the airline, which delivers a steady stream of compressed air. It is typically used in laboratories and manufacturing industries. Figure 1 is an example of a compressed air blow gun.
To choose a suitable air blow gun you first have to look at the maximum pressure that can be applied. First, it is important to check your input connection type and size to match the air compressor hose. Then, the air blow gun's nozzle should be selected to ensure a suitable output port for your application. The output of compressed air can be constant or adjustable depending on the trigger design.
View our air blow gun selection here!
Table of Contents
Common air intake types
Air blow guns are equipped with various input port types that provide a safe and easy connection with the compressed air supply. Typically, the air blow gun has female threads, so they connect to a fitting with male threads with a hose barb or pneumatic coupling on the other end.
Hose barb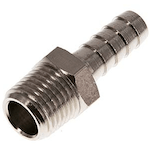 Figure 2: Hose barb
A hose barb is a fitting commonly used for connecting and securing air tools, hoses or tubes. They are usually made up of plastic, steel or brass. The hose barb's male threads are connected to the air blow gun and the hose barb is connected to a tube or hose. The barb rings allow for an easy connection that is leak-free. Often times, a hose clamp is used to further secure the hose barb into place.
Pneumatic coupling
A pneumatic coupling connects compressed air tools to a compressed air line. The air blow gun can be easily connected or disconnected from the air supply line while it is under pressure. It consists of the quick coupling (Figure 3 left side of fitting) and a plug-in or nipple (Figure 3 right side of fitting). The plug-in side follows common styles to make them interchangeable, like the Euro coupling or Orion coupling style. When disconnecting the plug side, the system will stay pressurized allowing you to quickly and easily disconnect and connect different tools with the same connection style.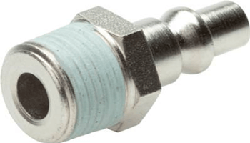 Figure 3: Air coupling plug
Common output types (nozzles)
Air blow guns have an outlet port that is usually equipped with a nozzle that directs the compressed air coming out. There are six common output nozzle types, that are shown below in the chart. Depending on the application and usage of the air bow gun, there is an optimal nozzle for that usage.
| | | | | | | |
| --- | --- | --- | --- | --- | --- | --- |
|   | Straight nozzle | Star shaped coanda | Safe straight nozzle | Flat nozzle | High flow coanda | Venturi nozzle |
|   | Simple with constant pressure | Central cone with several side openings | Straight nozzle with one or more side openings and a built in pressure regulator | Multi-channel fan nozzle that is suitable for large areas | Large diameter central cone with several side openings that amplifies air flow | Large diameter nozzle with large diameter side openings that uses less compressed air |
| Noise* | Low | Low | Moderate | Moderate | Moderate-High | High |
| Thrust** | Low | Moderate | Low-Moderate | Moderate | Moderate | Low |
| Blowing off/Drying small objects | ++ | +++ | ++ | + | + | + |
| Drying parts | ++ | +++ | ++ | + | +++ | ++ |
| Drying large objects | + | +++ | + | +++ | + | ++ |
| Distance cleaning | + | ++ | + | + | +++ | ++ |
| Cavity cleaning | ++ | +++ | ++ |   |   |   |
*Noise Level: Low: < 80dBA ; moderate: 80dBA - 84dBA ; high: 85dBA or higher
**Thrust: Low: < 300g ; moderate: 300g – 599g ; high: 600g or higher
Flow control
To control the air pressure output, there is typically either a control knob or pistol grip design. A control knob can be twisted to adjust and control the flow of the compressed air. The pistol grip design allows for variable flow control based on how much you pull the trigger.
Safety standards
Air blow guns can be hazardous if used without proper care. They can product loud noises that can cause hearing loss, the particles projected into air by compressed air can enter your eye and cause irritation and infections and the compressed air itself can cause injury if it gets into your body through the skin. In the United States, air blow guns should meet the OSHA regulations on compressed air blow guns. The OSHA regulations 29 CFR Part 1910.242(b) states that compressed air should not be used for cleaning purposes except if reduced to less than 30psi (200kPa) and only with use of effective protective equipment.
Housing and internal parts
Air blow guns typically have metal or plastic housings. A plastic housing is much lighter than a metal housing and prevents the cold feel of the handle. The pistol grip and handle provide the ergonomic benefit to the user. The nozzle that guides the compressed air into the desired spot is generally made from aluminum or zinc plated steel. The internal parts of the gun are made out of brass and stainless steel while its sealing is typically made out of NBR. For additional user protection, air blow gun can also have protective shields, generally made up of plastic, for protection against rebound particles.
View our air blow gun selection here!