Electrical Ball Valve BW2 1'' 2-way 12V DC relay
Reference:
BW2-100-AW1-R012DC
2 way electrical ball valve with 1 inch female threads (BSP) and energy efficient 12V DC actuator with integrated relay. Suitable for liquids and gases (max 110°C) and a pressure from 0-10 bar. Suitable as zone valve in heating systems. The valve has a brass housing with chromed ball and PTFE valve seats. The nominal diameter is 19 mm, the Kv value is 21 m3/h (350 l/min at dP=1 bar, water). 3-wire connection (open-close): plus, minus and control wire (plus). The valve opens in 6s (normally closed).
Including actuator
View all
---
---
Shipping to United States: $14.95
Free for orders > $390.00
Expected delivery in 3 - 6 business days
---
Description
Specifications
Downloads
Accessories
Description
Very energy efficient and robust 2 way JP Fluid Control electric ball valve to open or close pipes electrically. The valve has 1 inch threads (female thread BSPP) and a 12V DC actuator (IP54). This valve is suitable for liquids and gases (-10 to 110°C) and is often used in heating systems. A ball valve is less sensitive to dirt than a solenoid valve. It is however recommended to install a filter before the valve. The valve body is made of brass, the ball is chrome plated and the seal is PTFE (Teflon). The orifice is 19 mm, the Kv-value is 21 (350 l/min at dP=1 bar). The time for opening or closing is approximately 6 seconds.
Installation
The actuator has a 3-wire connection, and must be connected as shown in the diagram below. The actuator is supplied with a cable. The actuator has On/Off control. This means that two wires are permanently connected to the power supply. Powering the control wire opens the valve electrically, disconnecting the control wire will close the valve electrically. The actuator includes limit switches, energy is only consumed during opening or closing of the valve.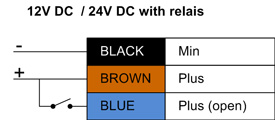 Important
Please observe the color coding of the wires.
Suitable for clean gases and liquids, including cold & hot water.
Make sure that the valve is suitable for the application and that the materials are suitable for the medium and the temperature.
Note: this valve is not suited for dry gases such as unlubricated compressed air.